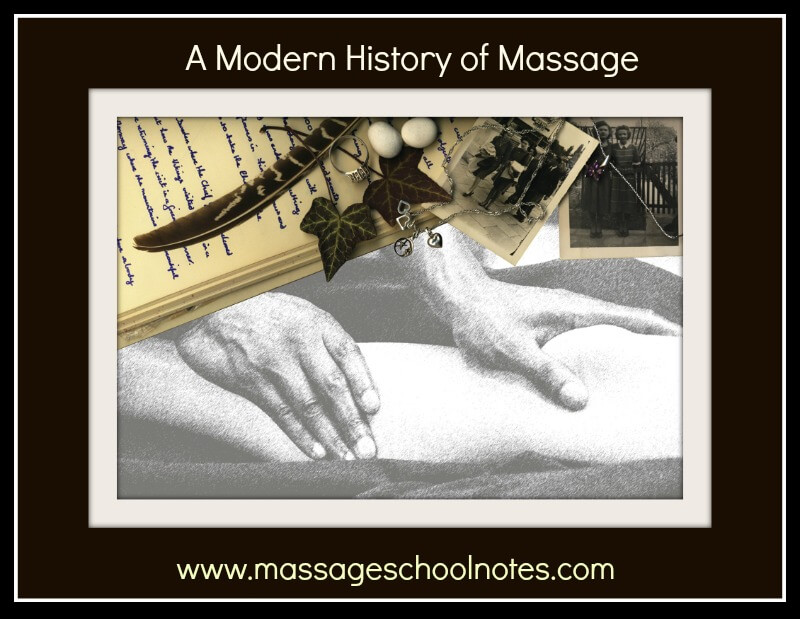 This unique History of Massage is the modern version of what it really took to get us where we are today. The heck with Ling and all those guys. These are the days of our lives.
2000 -2010
2000 – Mississippi, Illinois, Kentucky, South Dakota, Oklahoma, Georgia, Nevada, Arizona, Massachusetts, Colorado, Indiana, Michigan, Pennsylvania and Montana have passed regulatory legislation.
2002 – Massage Envy Franchise started by John Leonesio (former owner of a chain of health clubs) and Shawn Haycock (Licensed Massage Therapist) in Scottsdale AZ.
Leonesio created a chain of health clubs that he sold to 24 hour fitness in 1999. 2008 – Massage Envy was sold to the Essel Group. 2010 – Massage Envy Sold to Sentinel Capital Partners (owners of groups of Taco Bell, Pizza Hut and Cottman Transmission franchises) — and now the franchise network is owned by Roark Capital Group (Roark after the character in the book the Fountain Head.)
2002 – COMTA was recognized by the USDE as an approved institutional and programmatic accrediting agency of massage therapy schools and programs – See more at: http://comta.org/about-comta/#sthash.yPQKwWuu.dpuf
2004 -COMTA officially separated from AMTA
2004 – Salary Statistics from BLS: "Median hourly earnings of massage therapists, including gratuities earned, were $15.36 in May 2004. The middle 50 percent earned between $9.78 and $23.82. The lowest 10 percent earned less than $7.16, and the highest 10 percent earned more than $32.21. Generally, massage therapists earn 15 to 20 percent of their income as gratuities. For those who work in a hospital or other clinical setting, however, tipping is not common."
2005 – Massage Magazine sold to Doyle Group
2005 – Federation of State Massage Therapy Boards (FSMTB) Created
2004-2006 ish – Cortiva goes on a buying spree of massage schools, buying up smaller "mom and pop" type schools.
2005 – Average massage-related income for massage therapists in 2005 was $18,950, with a median income of $14,500 (2005 ABMP Member Survey from internet archives)
2005 – ABMP salary stats: Total earnings by massage therapists, including their earnings from other employment, were $32,506 (2005 ABMP Member Survey).
First-year practice average income was $9,589, reflecting the challenges of establishing a professional-service practice (2005 ABMP Member Survey).
2006 – 241,058 massage therapists in the United States as of January 2006 (ABMP ) up from 137,390 in January 1999
2006 -A U.S. Department of Labor forecast for 2006–2007 projected an 18 percent to 26 percent increase in job opportunities through 2014 (Source: U.S. Department of Labor, Bureau of Labor Statistics, 2006–2007 Occupational Outlook Handbook)
2007 – First job task analysis by FSMTB.
2007 – ABMP Metrics Section (see Internet Archives): ABMP 2007 Member Survey also indicates:
The average age of ABMP members graduating in 2007 and entering the profession is 44. The median age is 45. (We believe profession-wide average and median ages are a few years lower.)
Close to 83 percent are women and 54.5 percent are married.
Massage therapists had an average of 14.4 client contact hours (12 hours median) in the week prior to the survey, according to the ABMP member study.
65.6 percent wish they had more clients ó 21.2 percent indicated that (more clients) was the one change they would most like to make to their practice.
Nearly half of the respondents (51 percent) report supplementing their income with another job, a job at which they spend an average of 25 hours per week. The top five second occupations include: office/secretary/clerks; massage instructor; medical, including nurses; teacher/education; and sales/retail.
90 percent have at least some college.
2008 – Massage Envy sold to Veria – a Texas-based, health-focused multimedia company that is a unit of Indian conglomerate The Essel Group.
2008 – Rick Rosen writes a White Paper : On Becoming a Profession. (PDF on massagemag.com)
2009 – Alliance for Massage Therapy Education founded. (Founding Members)
January 2009 – AMTA announced it is now backing the Massage & Bodywork Licensing Exam (MBLEx) , developed by the Federation of State Massage Therapy Boards (FSMTB) was the better exam, and withdrew their support of the NCBTMB. Uhoh… The NCB says the AMTA was saying that "AMTA's decision to endorse the MBLEx was driven by passion rather than reason". see Massage Today March 2009. AMTA Announces Support for MBLEX as Massage Licensing Exam. Archive.org
Feb 2009 – Massage Therapy Body of Knowledge Task Force Created.
March 2009 March issue of MT reported on the American Massage Therapy Association's (AMTA) recent support of the Massage and Bodywork Licensing Examination(MBLEx).
June 2009 – The NCBTMB loses their way and starts offering discounts on Pizza and Oil Changes : see the breaking news. (Link removed by NCBTMB).
See more on the history of the NCBTMB.
July, 23 2009 –AMTA Announces Multi-Faceted Social Networking Program Archive.org
Evanston, IL – The American Massage Therapy Association (AMTA) announces its multi-faceted social networking program to serve massage therapists, students, teachers and consumers through the latest technology. The association now has a presence on Facebook, LinkedIn, Twitter and YouTube to bring the most current association updates and news to its members and others in the profession. These venues also provide information to the public, opportunities for questions and dialog with consumers and with potential clients.
September 2009 issue Massage Mag. Article summary: The National Certification Board for Therapeutic Massage & Bodywork (NCBTMB) is launching a membership organization that will offer members insurance with the intention to "strengthen the value of NCBTMB."
2009 – two states passed legislation to regulate massage therapy – Michigan and
Montana – raising the number of states that regulate the profession to 43.
Spring 2010– 43 states licensed plus WA.DC.
2010 – Veria sold Massage Envy to Sentinel Capital Partners, a New York-based private-equity firm that owns Taco Bell, Pizza Hut, Church's Chicken and other franchises in a number of states. See article.