(Taken from Ruth Williams, 25 years History in the Making, (full document on archive.org and also early newsletters of AMTA-WA (1953-1962) that I have scanned and uploaded to archive.org)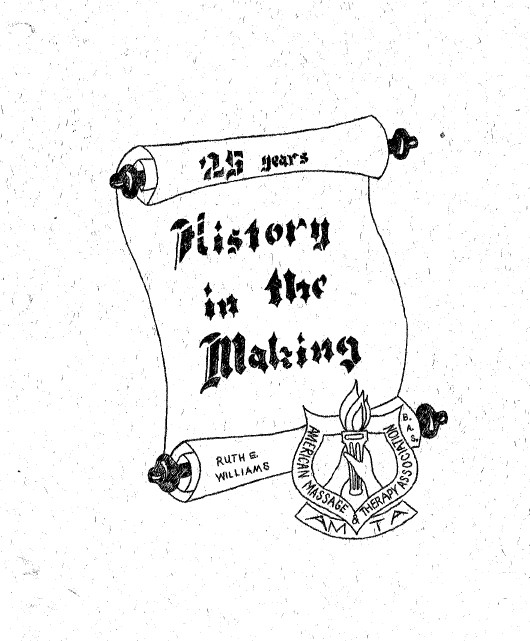 August 16, 1943. Post graduate class of the College of Swedish Massage on East Ohio Street in Chicago, IL was presented with the idea of forming and association of Masseurs and Masseuses. The purpose would be to further the interest of it's members and help each other become more efficient in their work. There was a letter in which Milton Niedfeldt wrote to Dean Swanson of the college in early 1943 suggesting they start an organization for their school. Some of the classmates were members of other organizations but were dissatisfied with them feeling like it was just a way for sales people to bother them.
Officers Elected: President – Charles Williams of Sausalita, CA
Vice President – Sargent Ira Lewis of Colfax, WA
Secretary – E.D. Easter, Indianapolis, IN
Treasurer – Mrs. Glen Anderson, Indiana
Honorary Membership given to Harry McConnell, Registrar of the College of Swedish Massage.
First Years Dues – $.50
See the History of AMTA-WA which was an instrumental part of creating AMTA for 1943-1948.
August 6, 1948 – National Convention held at the Frye Hotel in Seattle WA. 46 members present 1st day, 62 present 2nd day. Washington Chapter presented four resolutions which were passed. Fees increased from $7.00 to $10.00 with $6.00 going back to each state. Branch City Chapters were authorized, giving them the power to fundraise for the local chapter. The application fee would take $2 of the $6 and send it back to the state. A charter in the form of a certificate was to be conferred on the State and City Chapters authorizing them to function as an entire unit under National AAMM. Officers were re-elected. Hot Springs Arkansas chosen as the convention site for 1949.
December 21, 1948 – Oregon holds first meeting to organize their chapter.
January 29, 1949 – Secretary/Treasurer Williams and President Clark Cottrell went to Portland to organize the OR chapter.
February 13, 1949 – Starting Spokane WA Chapter.
April 10, 1949- Spokane received their Charter with 11 members, presented by MA Niedfelt. There was a city ordinance which would have branded Massage Parlor as a house of prostitution. Decals were talked about as a way of distinguishing legitimate massage operators.
August 5, 1949 – 4th National Convention held in Hot Springs Arkansas with 47 members and 25 guests present. Arkansas Chapter granted their Charter with Mae Stover Huges of Arkansas elected President. Virginia Chapter Charter presented to Martha Savills, secretary/treasurer and Sara Jane Beverly, Vice President. Time allowed for sight seeing. Leaflet titled "Little Known Facts" became available to members. By-laws misunderstanding about what a quorum meant created confusion and no business was conducted. Chicago chosen for 1950 convention.
September 26, 1948 – Wisconsin holds first meetings to form State Chapter.
October 23, 1949 – Arkansas chapter held charter signing meeting in the home of JE "Dude" Aldrich in Little Rock, AK with 10 members out of 14 present. Officers Mae Stover Hughes, President. JB McAnealy, Vice President, Julian E "Dude" Aldrich, Secretary/treasurer.
October 1949 – Illinois chapter meeting in Joliet, IL. Elected officers: A.F. Reidel, President; George Morideth, Vice president; Arthur Melson, secretary/treasurer.
August 6, 1950 – National Convention in Chicago, IL. Massage Registration Act was adopted and members were urged to get the bill passed in their home states. 4 more Vice President Positions were added to help with the administration work. Denver selected as Convention place for 1951.
Sept 19, 1950 – Illinois Chapter meeting held. Officers elected.
November 1950 – Kansas and Missouri Chapters were organized.
January 1951- Illinois State Chapter received their Charter and meetings were held to elect officers.
1951 – WA, IL, CA had bills presented to the legislature but failed to pass. AR and OR both passed a bill requiring a license to give massage.
July 8, 1951. Portland OR meeting. Massage bill passed created problems in how the bill was administrated. No massage therapists were on the Board of Examiners. It was placed under the Board of Health.
July 28, 1951. Georgia State Chapter Organized.
September 8, 1951. Georgia Charter signing meeting. State slogan created.
"In every rank, both great and small, May love direct and support us all."
July 29, 1951 – 12 members gathered in Kearney, Nebraska. working on legislation.
August 3, 1951 – 6th National Convention in Kansas City, MO. Treasurer report: all bills paid; $62.50 in the bank. Voted to return to only one Vice President.
October 15, 1951 – Tennessee organizational meeting held.
1951. Arkansas legal issues over bathhouse workers and whether they had to get licenses too. Massage Act did not appropriate funds for running the Board of Examiners. Charles Williams questioned on his leadership and decisions for AAMM.
February 10, 1952 – First Tri-State Meeting of members from Wisconsin, Indiana and Illinois. IL preparing bill for legislature. "The Masseur" (magazine) was almost defunct so "The Masseur, Illinois Chapter" was created.
August 7, 1952 – Seventh National Convention at the Congress Hotel, Chicago, IL. 46 members and several visitors with 13 states represented. Dues raised from $5.00 to $12.00, $8.00 would stay in the State Chapter and the other $4 sent to National.
1952. Kentucky Chapter organized.
03-25 years. (PDF) see the full version on archive.org
1953 – IL chapter had first meeting.
April 1953 – Kansas Chapter created classes to share techniques and created a state directory.
1953 – Arkansas still dealing with bath-house massage operators who were not abiding by the Registration Act.
April 19, 1953 – Pennsylvania Chapter Meeting getting ready for National Convention for adoption as an official chapter.
June 14, 1953 – Illinois Chapter elected officers. Illinois Masseur Magazine continued for another year.
1953 – Arkansas still having issues with bath house massage operators. Officers Elected.
1953 – AMTA WA Chapter planning for National Convention.
August 7, 1953 – National Convention held in Spokane WA. 65 members present. Membership count – 202. Mr Williams expelled from association for conduct unbecoming a member and officer.
1954. "The Masseur" magazine continues under the leadership of Dr. Charles Brooks who worked without compensation.
Jan 1954 – North Dakota Chapter organized. Introducing Massage Bill to State Legislature.
June 1954 – WA Chapter meeting discussed issues of what to do about chiroprators becoming members. Chiros could not pass licensing exam so they wanted to join massage therapists. Decided that chiropractors could join if they surrendered their chiroprator diploma and agree to not practice chiropratic adjustments while a member of the AAMM. Officers elected. Also voted to donate 100 hours of treatment to children with polio if massage was prescribed by their doctor. This brought attention of medical doctors. WA Chapter members now 62.
Aug 1954 – National Convention in Davenport Iowa. New proposals adopted: no elected official could hold the office for more then 3 years. Associate members were now being accepted. Malpractice insurance offered to members. Mal-practice insurance offered at a reduced rate for members. Proposed that no elected official could hold office for more than 3 years. AAMM refused to endorse and supplement or lend it's name to an commercial product to any commercial product to the exclusion of other products.
Sept 1954 – Illinois Chapter meeting at Elks Club. Demostration on techniques for treating bursitis.
Oct 1954 – Iowa chapter meeding in Charles City. Discussed Registration Act. Officers elected.
Oct 1954 – OR chatper revived after being decimated by resignation of chapter members.
Nov 1954 – OR charter signing meeting in Portland. Officers elected.
Nov 1954 – Georgia Chapter meeting maps out program for obtaining Massage Legislation for Jan. session.
Dec 1954 – Indiana Chapter meeting. Officers elected.
Dec 1954 – Idaho State Massage Association wrote "Well I think it is safe to say organization in ID is off to a fair start. There were 11 at our meeting yesterday afternoon and we voted to become a Chapter of the AAMM.
Jan. 15, 1955 – Chapter charter presented toIdaho by National President, Ruth Williams. Idaho State Massage News Started.
Jan. 1955 – OR Chapter meeting in Dundee, OR. Discussed Legislative Issues.
Jan. 1955 – South Dakota organized the seventeenth State Chapter. Ohio chapter started.
Feb 10, 1955 – First newsletter from Idaho Chapter.
March 19/20, 1955 – Tri-State meeting between OR, WA, ID held in Lewiston Id. "Stamp plan" created to be used as a form of advertising and fundraising. Stamps were AAMM emblem. Stamp plan abandoned in 1956. The film – "Massage for the Relief of the Heart" by Jess Williams was shown. ID working to get bill passed.
May 1955 – Wisconsin Chapter Granted their State Charter.
June 1955 – WA Chapter of the AAMM Annual Convention. Officers elected. Milton Niedfelt and his National Membership committee worked to double membership and laid groundwork for Massage Bills.
July 1955 – OR chapter meeting. Arranged a meeting with Oregon Medical Masseurs for the purpose of "seeking legislative relief from the 1955 Senate Bill 443, by dispensing with the Board of Massage Examiners. Sept meeting letter written to the Attorney General for a ruling on the validity of legislative authority on the bill. There was considerable animosity between members of the massage board and certain legislators which was suggested that Smelling Salts might be needed.
Aug. 1955 – Tenth Annual Convention of the AAMM held in Louisville, KY. Two new committes created- Insurance Committee and Legal Committee. Board Travel Expenses Approved. Arthur Mann, President of WA Chapter had the honor of being chosen Masseur of the Year.
1955 – Ruth Williams was appointed to the Committee of Schools and Colleges and rules and regulations for massage schools were created for entry into AAMM. Three classes of schools created: Class A- 6 months/600 hours or more: Class B – 300 hours or over; Class C – Correspondence courses and 3 months clinical training or apprenticeship and Class R – one engaged in research. 16 schools were qualified.
1955 – The Masseur (newspaper) had less chapter activity news and published more scientific articles.
1955 – AAMM Ethics Committee Chairman, Ann White created code of professional ethics:
The Science which deals with the moral conduct and humany duty. Service to our clientele, their welfare and comfort. Be faithful in doing our tasks and be loyal to the profession. Our aim is to conserve life and promote health.
1956 – Three new chapters – California, Michigan, Massachussets. (5 members were required to start a chapter.) Georgia re-elected same officers and held state meeting 4 times a year. ID held meetings every other month. Illinois chapter elected officers, created membership fee of $5. Indiana chapter held meetings every other month (one was ajoint bridal shower and one was annual picnic). Kansas chapter re-elected all officers. KY chapter held monthly meetings spending most of their time in demonstrations and just good old social get togethers. Iowa held chapter meetings 4 times a year. Nebraska chapter was holding meetings as needed. North Dakota was working on proposed stae law. PA chapter selected as host for 1957 National Convention. South Dakota officers re-elected. Utah officers elected. WA Chapter very active with Seattle chapter holding meetings aswell as 5 meetings in Spokane. Wisconsin chapter was preparing for National convention.

March 4, 1956 – OR chapter meeting: talk on massage laws, rules and regulations.
"Insured patients were discussed both pro and con with the hope voiced that old line insurance companies would soon see the necessity of making allowances for massage treatments, just as the would for any call to an MD."
History in the Making (PDF)- Ruth Williams. Part 4. 1957-1961
Aug 1956 – AMMA convention in Milwaukee, WI. National President D.S. Carlson warns chapter leaders/directors to:

1957 – Chapters held state conventions. OR Chapter addressed bills.
Senate Bill 283 and the Chapter went on record as favoring cancellation or revision of the bill, A letter to this effdct was sent to the legislature, protesting its attempt to prevent massage operators from taking patients except by referral from an M.D. Also protest was made against Senate Bill 292 which would forbid the purchase of Vitamins or Food Supplements except by a Doctors proscription* Mary Altman explained Senate Bill 108 which raised Business 'License to $ 25. 00 and operators to an additional $10.00 which was quite unreasonable in comparison to the Medical Doctor ff s License of $5.00 per year.
July 13th, 1957 – State Convention met in Eugene at the home of Past President Ruth (Olson) Pine* A letter was read from National President D. S Carlson about the Masse Therapist Organization and their shaky methods of doing business ( D, S. Beldon gave plenty of reasons why all should get busy and get the Massage Examination Commission back instead of being kicked around like a A political football.
Washington Massage Therapists were  protected by the 1906 Sanipractors law which was amended in 1917 and no State License was required. The Legislative Committee was continually on guard to prevent unfavorable laws and to protect our freedoms as long as possible.
1958 – National Convention held in Indianapolis.
"The Thirteenth Annual National Convention was held in Indianapolis, Indiana. August 6th through the 10th with a fine attendance from twenty-two states. The newspapers gave the conventioners a very bad time in the form of headlines such as,"The Legal Rubbers  Were in Town". Never had the Association received such bad support from the news media. This was quite a let down from the wonderful support that we had received the year before in Pennsylvania.
Members had been kicking around the idea of a name change for some time and the matter was discussed and put to a vote. It was decided to call the organization the American Massage and Therapy Association. A new emblem was designod and the new name and emblem were used for the first time on the November-December issue of the Masseur."

1959
"The Fourteenth Annual National Convention of the A.M.T.A was held in the Red Velvet Room of the LaFayette Hotel in Long Beach, California on August 22th through the 15th.
Idaho State Chapter helped to defeat House Bill 48 for licensing of Physical 
Therapists, which would have put the masseur out of business."

1960
"Arizona Chapter was organized on November 26, 1960 and the following officers were elected; President Albert J. Sprague, Vice-president Norman Hostetler and Secretary-treasurer Gail I. Biedsdorf.

The City of Chicago gave us a warm welcome for our Fifteenth Annual National Convention on August 4th through the 7th 1960, where there was the best attendance to date. An orderly business meeting made several changes in the constitution and by-laws to coincide with the Certificate of Incorporation which was filed on the following September 13, 1960 in Washington D. C. This was a giant step forward. The A.M.T.A, was getting to be big business and officers and members needed the protection of incorporation."


1961 – Colorado Chapter formed. Other chapters had state conventions and meetings.
"Arizona Chapter was notified on February 1, 1961 that due to the efforts of their State President, the A.M.T.A, and its members wore registered with the office of the Secretary of State, State of Arizona. In September arrangements were made for permission to use the term Massage Therapist in the classified advertising section in the telephone directory. All qualified members of the A. M.T.A would be eligible to use this listing. The Chapter was very proud of the honor bestowed upon their President, Albert Sprague, who was chosen to give Vice President Johnson and Lady Bird Johnson massage treatments while the Johnsons were visiting in Pheonix. Officers of the year were; President Albert J.Sprague, Vice-president Norman Hostetler and Secretary-treasurer Evelyn M.Sprague. 

On August 3, 1961, delegates from all over the United States met in Omaha for The Sixteenth Annual National Convention of the A.M.T.A. A great deal of time was spent on discussion of legislative precedures and malpractice insurance. An important ammendment to tho constitution and by-laws, making it possible to accept any prospective member who had two years background experience or had a diploma from an accredited school of massage but is only practicing part time, would be acceptable for membership. Before this change, only those graduating from an accredited school and practicing full time were acceptable."

History in the Making. (PDF on archive.org) Ruth Williams. 1961-1964
1962
"California State Convention was held June 8th, 9th and 10th in Long Beach with President Charles Dausman presiding. The by-laws wore read and accepted and it was decided to incorporate the State Chapter within ninety days. In addition to other matters of business which were taken care of tho proposed, massage bill was read and discussed. About $1,200.00 was raised in pledges to support the legislative fund.

The September Quarterly meeting was held in Modesto CA the 29th and 30th with thirty-five in attendance. Plans were made to hire an attorney, present the Massage Bill in the next Legislative session, get malpractice insurance, etc. California received a $37.50 Bond from the National for bringing in the most now members. By the end of 1962 California had about one hundred and fifty members.

Massachusetts Chapter membership was enthusiastic about The Seventeenth Annual National Convention of the A.M.T.A. which was hold in the Konmore Hotel in Boston, Massachusetts on August 8-12, 1962. There were one hundred and twenty five registered delegates, representing nineteen states. Convention Chairman Virginia C. Goergo and Co-Chairman Ann B. White were examples of efficiency and hospitality at its best. The name of The Masseur magazine was changed to the Massage Journal in the thought that this name would meet the requirements of any state chapter. This change was reflected in the next issue of the national magazine and along with tho new name came a new look. 

Washington State Legislature had passed House Bill #16, which is a Physical Therapy regulatory bill, containing ammendments which were favorable to our profession. By keeping close watch, on pending bills the Washington Chapter Legislative Committee had spliced efforts to get the bill passed in its original form which would have been very detrimental to many of our members."
1963 – Regular meetings of chapters held.
"Arizona Chapter is not only first alphabetically, but was the first to gain a new member in 1963, making a total of eighteen paid up members. All officers remained, except Vice-president, which was filled by Steven J. Gasper. In April they learned that the Phoenix City ordinance was being reviewed to require an operator to be a graduate of an accredited school, and show proof of experience and pass a written and oral examination. The chapter enjoyed the full co-operation of the Police Department.

California Chapter quarterly meetings were held January 12th and 13th at Santa Barbara, with all officers present. This two day meeting was well attended and many important items of business, such as law and legislature, publicizing massage, printing of the states by-laws so each member will have a copy. Association colors and banner, a committe composed of Anna Hoopes, Leo Dalton and Lew Hatch wore appointed to investigate massage schools in California and compile a list that could be approved and expense of thedelegate to the National was discussed with $50.00 being allowed.

Pennsylvania Chapter was successful in their efforts to have a city ordinance 
in Philadelphia, which without question made any A.M.T.A. member eligible for 
a license, while other therapists were being investigated.

The year 1964 brought the biggest national membership drive which had been entered into to this date. George Gammon, 1st Vice-president, had launched a program which he figured would put us over the 1000 membership mark With mal-practice and health insurance to offer prospective members, they could save more than their yearly dues. National President Samuel Dahlgren urged state chapters to work hard to get massage laws passed, for it was the only way we could have adequate protection. During this time there were only seven states which had Massage Acts, and four other states who had City Ordinances 
to license massage. The A.M.T.A now had a library of books which were in the keeping of Mary Veenstra, Detroit, Michigan, which were available to members for one dollar rental monthly. 

In Arizona Chapter, work was begun to revise the state law concerning massage. 

It is noted that in Arizona, the classification of Massage and Therapist does not conflict with Physical Therapy. A study was made of massage bills from many states and after a groat deal of deliberation it was decided to use the state of Montana's (rough draft) bill, with revision. On March 4th the bill had been revised and was ready for presentation in 1965. In early fall a membership drive was put on and every operator in the state was contacted. They gained fourteen new members making making a total of thirty-one. All officers wore retained another year to complete the job of legislation which they had started. 

In California, Attendance Certificates which would specify hours instead of days attended  Study Group (formerly called workshop). This change of wording was made to meet approval of the State Board of Education. All was in readiness for George Gammon and Adrian Froyling to present the massage bill in a few short weeks and members were working hard to raise the needed money. Plans were to enter it in the 1965 session of the Legislature in January.
 
December 1963 a few members met together in Santa Rosa with an interest toward forming a Unit in this district. The Unit 6 was formed in the February meeting and the first official meeting of Unit 6 was on March 30th. A plan was worked out whereby members would assist Adrian Froyling in his dedicated effort to come up with a strong bill for legislation $55.00 was donated to the Legal Fund. 

General Meeting of the California State Chapter was held February 15th and l6th in Millbrae with thirty-five in attendance. It was decided to call the association the California Massage Therapy Association (C.M.T.A.), affiliated with the A.M.T.A. The members were instructed that the California Physical Therapy Association and CMTA would not be consolidated, that they would remain separate and independent organizations. 

Members in the Long Beach area were seeking to change a law which forbade one to give a massage to the opposite sex. The State Convention met June 26th, 27th and 28th in El Segundo. More work was done on the Bill. Opposition to the bill was strong among some factions in the state and a real battle was anticipated. Money needed to carry on the fight was a prime subject. State officers installed were; President Wendell Payne, Vice-president Mia Fischer, Secretary Anna Hoopes and Treasurer Katherine Dunagan. Directors remained the same as in 1963, forty were in attendance.

North Dakota Chapter was host to the Eighteenth National Convention held August 7 1963, in the Hotel Gardner in Fargo. Several ammendments were passed, one of them pertaining to the duties of the Vice-presidents, i,e. 1st Vice-president was to be Chairman of the Membership Committee, 2nd Vice-president was to be Chairman of the Public Relations Committee and 3rd Vice-president of the 
Legislative Committee. 

The official colors selected and voted upon were blue, gold, rod and white. New membership pins were to be made up with these colors in the near future."


1964  

General Meeting of the California State Chapter was held February 15th and l6th in Millbrae with thirty-five in attendance. It was decided to call the association the California Massage Therapy Association (C.M.T.A.), affiliated with the AMTA. The members were instructed that the California Physical Therapy Association and CMTA would not be consolidated, that they would remain separate and independent organizations.
History in the Making (PDF on archive.org). Ruth Williams. 1965-1967
1965
"Attorney General CA, Thomas C. Lynch, in a seven-page document defined the scope of massage and the position of the practitioners who are thus engaged. In this paper, recognized at the sorce as the highest in its circle, came a definition of massage which was broader than all previous anticipations, as follows; 

"Massage" means the practice of the art of body massage by hand using Swedish or Oriental massage movements, normal exercises, agencies of infra-red heat or light, vibratory or muscle stimulators, external baths as used in the practice of massage, reducing, contouring and slendorizing, for relaxation, stimulation, hygene and maintenance of normal body functions. With this role of the unlicensed masseur it would seem to follow that any modality not prohibited by a specific statutory provision or local ordinance may be used by the masseur so long as tho modality is reasonably related to tho giving of massage for the preservation of health or the induction of relaxation. 

Californians may no longer use the word "Therapy', however the word "Technician" 
may be used, thoerefore the Chapter will hereafter be named "California Massage 
Technicians Association". Unit was formed May 13 embracing the area south.
Michigan was hostess to the Twentieth National Convention of the AMTA on August 4-8. 1965. The immediate past President was to be considered an officer on the Board of Directors for the following year.

1966
"The business of the Organization was getting to be so heavy and so pressing that  National Officers decided to hold a mid-year Directors meeting. The first to be hold was on January 15th and l6th, 1966, in Milwaukee, Wisconsin. Cue to the unusually heavy number of dropouts in 1965. there were only eight hundred and sixty members on the roster at the beginning. Directors worked out a way whereby efforts were to be made to keep members from dropping out. A manual was to be prepared for guidance to membership committees, Anna Burgholz stated that if new members word valuable, old ones were invaluable.


Educational Director Lloyd Allen made an excellent survey of massage schools and compiled an up to date list of those of proper requirements. He urged other schools to upgrade their courses to comply with A.M.T.A standards of one thousand hours of instruction. The AMTA hired Mr. Kirkpatrick W, Billing,, a Chicago lawyer, to serve as General Council at a monthly retainer fee of $150.00 under conditions which were to be renewed annually. Efforts were being made by President Fink to have massage included under Medicare. These efforts did not meet with success."

History in the Making. Ruth Williams. 1967-1968. from archive.org. Full text. or PDF
1967
"In California, the State General Meeting was held to Sacramento on February 18th and 19th, 1967, with a good turn out.  Mr. D. Knauss, Executive Secretary of the State Barbers Board, met with the C.M.T.A, Board to discuss massage legislation and re-draft the Massage Bill. A Massage Licensing Beard would be a separate Board under the Barbers Board, Reason... no new Board would be formed and a new Board must be placed under an existing Board...ie Barbers Board was not interested to running the masseurs and would loan money to start a License Board.

After a terrific legislative battle, California;s Massage Bill got through all the committies, the Assembly and the Senate. It reached the Governors desk, but was apparently left unsigned or pigeon-holed.

Attempts were made to push California's Massage Bill through the next session of the Legislature but nothing came of it, and this was very disappointing and discouraging to the members. However, California was determined, to "keep on keeping on" until something gives even to the face of almost insurmountable obstacles. Educational Chairman Lloyd Allen reported that due to a new interpretation of the California law, the use of any letters after ones name is now a felony rather than a misdemeanor.

Montana was successful in getting a massage law passed with an overwhelming majority vote in favor of the bill. They had not intended to enter a bill this year, for they were discouraged by their many failures, but on the advice of their attorney, they entered the bill at the last minute. Montana's efforts and victory should be an inspiration to all of us. 

Pennsylvania chapter, the Keystone State and home of the Liberty Bell was 
host to the Twenty Second Annual National Convention.  

It was decided that applications for membership were to be accompanied by not only a picture of the applicant, but also a photostatic copy of the diploma indicating training or letter providing experience and two loiters of character reference. Student memberships were to be limited to two years. Memberships were also to be maintained in the orininal chapter in which the member joined unless member requests transfer to another chaptor in writing. 
No practicing Chiropractic Physician working under a license in any given state would be elegible for membership in the AMTA. Should he be Living in a state that does not license him as a D,C, and he qualifies in training in massage according to present AMTA standards, he may apply for membership. A member is to have one voice in voting on a National level, but he may hold membership in as many chapters as ho desires, providing the full annual dues are paid in each state. State secretaries were to send in quarterly reports to the National Secretary so that all of those could be incorporated in her report later in the month. This was a revival of a similar method used in 1954 to 
keep contact with state chapters and members. Profits from the National Conventions were divided equally between the host state and the national treasuries. This fund to bo used for promotion of our educational features In National Convention.