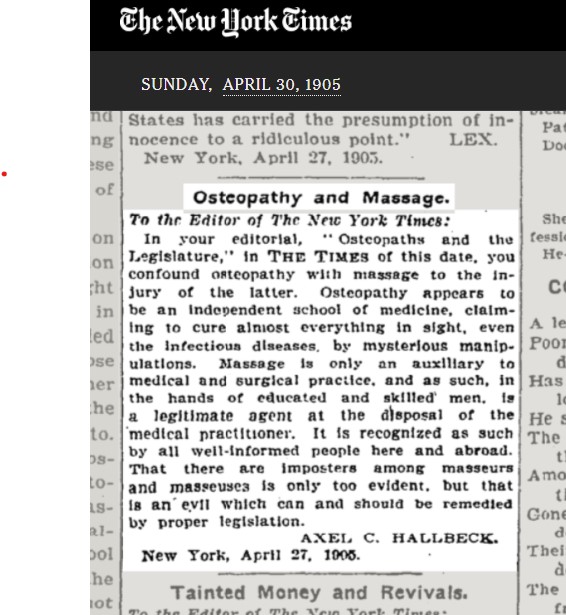 Oct 14, 1897 – OCCUPATION FOR THE BLIND. A Proposal to Teach Them Massage. Times Machine
April 30, 1905 – Osteopathy confused with massage. Times Machine.
Jan. 13, 1907 – HELPING THE BLIND TO SEE Remarkable Work by Two New York Women in Behalf of the Sightless Teaching Carpentry, Telephone Operating, Massage, Sewing and Stenography to Those Who Cannot See. Times Machine
Dec 3, 1908 – "Massage Does Not Demand the Expert. Women at Home May Become Skillful at It and Add to Their Beauty.The Correct Way. Care Must Be Taken. THERE are women who think that unless they can afford an hour under the expert fingers of a masseuse, it is not of any use to go in for this method of beautifying the face." Times Machine.
April 13, 1916 – A blurb in the news on this date says: The Governor today signed three bills affecting New York City – The Hamilton-Fertig bill for the licensing of massage parlors…."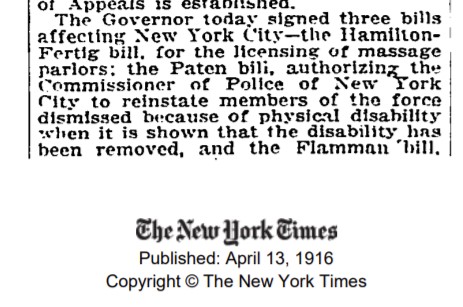 Aug. 3, 1919 – HOW TO LIVE 100 YEARS. Aged French Doctor Says He Keeps Young by Massage. PARIS, Aug. 2. — Much interest has been aroused by the remarkable oldage theories just put forward by Dr. L.H. Goizet, a well-known physician, in a volume entitled "How Not to Grow Old and Live More Than One Hundred Years." Times Machine.
June 10, 1920 – VACATION FOR SUFFERERS. Children with Infantile Paralysis to be Taken to Staten Island. Given Daily Massage. Times Machine.
Jan 31, 1922 – BATH FOR ELITE PARIS DOGS. Scented Water and Expert Masseuse in Champs Elysees Shop. PARIS, Jan. 30. Times Machine
May 3, 1922 – EATS MASSAGE CREAM, DIES. Stuff Mother Had Thrown Out Proves Fatal to Little Daughter. Times Machine. (What was in that cream?)
Aug 17, 1925 – Tennis star booed by crowd because she was late for match because she was getting massaged. Times Machine.
July 8, 1928 – Massage restores vision. SIGHT REPORTED RESTORED. Comes Back While Man Is Being Massaged by Barber. Times Machine.
Sept. 8, 1929 – WYNNE WOULD CURB MASSAGE LICENSES . A revision of ordinances that will establish more strict requirements for granting massage licenses and greater supervision over masseurs will be asked of the Board of Aldermen this Fall, Health Commissioner Wynne announced yesterday. Times Machine
Sept 15, 1929 – "WAR ON MASSAGE FRAUDS DECLARED BY DR. WYNNE. Health Commissioner to Ask Stricter Regulation of the Profession AN effort is to be made this Fall, the Health Department has announced, completely to restore the practice of massage in New York City to its former status as a reliable technical aid to medicine. More than fifty percent of those hired as masseurs were no more than ordiary rubbers. There are more than 1300 licensed masseurs in New York City, 700 of whom are women. " Times Machine.
July 14, 1935 – President Roosevelt who had a previous attack of infantile paralysis in 1921, stays in shape with swimming and a "rubdown by Gus Geenerich, former NYC policeman who is now the Presidents personal attendent. Times Machine.
Jan. 29, 1937 – "ELECTRIC MASSAGE BENEFITS PONTIFF. Marconi's Latest Process of Microwave Therapeutics Aids in Relieving NeuritisSenator Guglielmo Marconi's latest process of microwave therapeutics is being successfully applied in the treatment of Pope Plus's legs. The process consists fundamentally of electric massage carried out with alternating current of a frequency of several million kilocycles." Times Machine.
July 11, 1953 – Instrument to Massage Fingernails Is Patented by Mexico City Inventor. Device Seen Helping Pianists, Stenographers and Others Subject to Manual Fatigue — LIST OF INVENTIONS PATENTED IN WEEKWASHINGTON, July 10 — A Mexican inventor patented this week an electric instrument for massaging the fingernails. He expects it to be of particular value to pianists, massagists and others subject to manual fatigue, such as stenographers, by improving the circulation at the roots of the nails. Times Machine
June 22, 1961 – "Masseuse Visit Is An Antidote For Varied Ills. THERE is little that lights up a woman's face like the word massage. Like a custommade dress, the work of a personal masseuse is tailored to fit each client, making it stand high on the list of feminine luxuries." Times machine.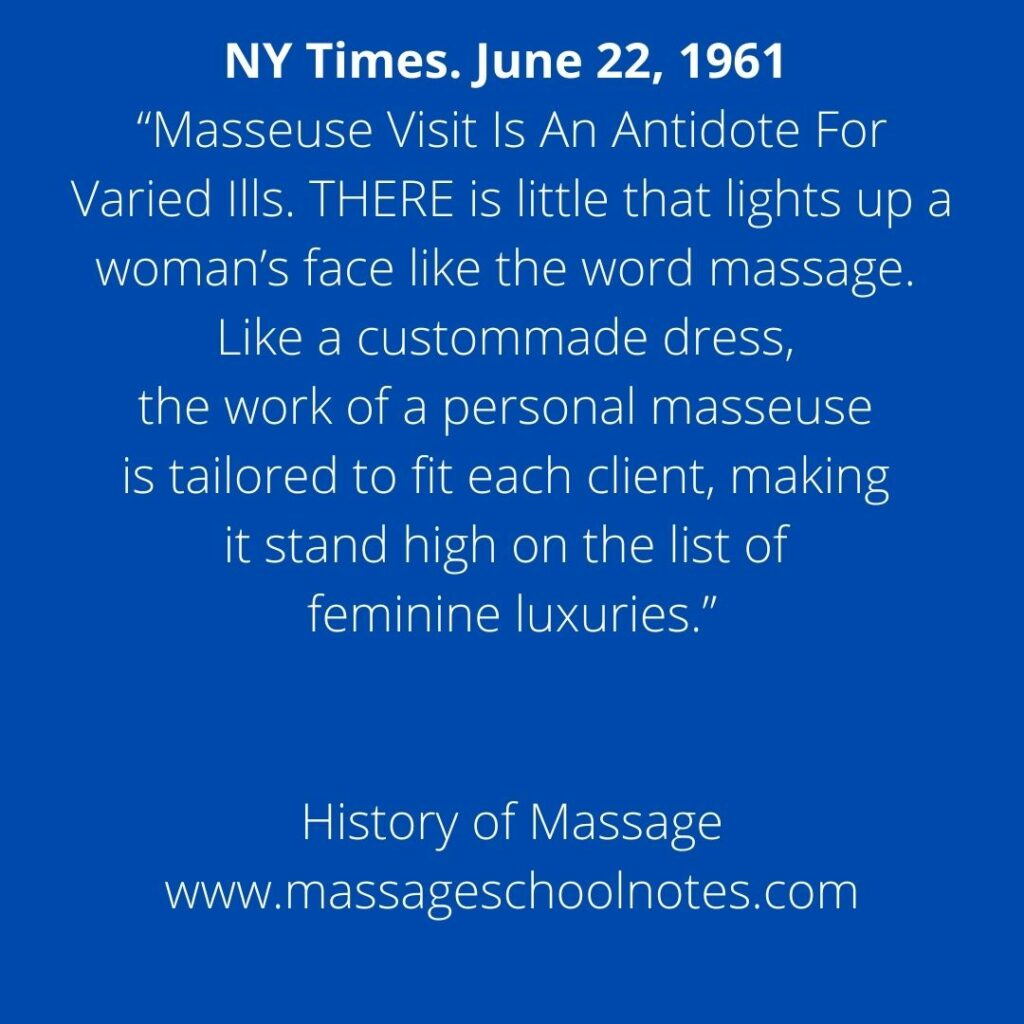 Oct 25, 1972 – East Side Massage Parlor Raided 2d Time in a Week: Times Machine
Dec. 19, 1972 – "MASSAGE' PLACES FACE CRACKDOWN. Mayor and Council Leaders Join to Support Controls on Lewd EstablishmentsMayor Lindsay and the City Council leaders joined yesterday to support proposed city legislation that would require licensing of all so-called massage parlors that do not belong to recognized medical institutions. Times Machine
Jan. 16, 1973 – "Assembly Adopts Curbs On Use of Word Masseur. Bill Aimed at the City. The Assembly today approved a bill that would restrict the use of the word masseur or masseuse to those who meet the standards of education, experience and moral character now required by the state for licensed masseurs and masseuses.
Under the bill introduced by Mr. Levy and passed by a margin of 119 to 25, the word "licensed" would be dropped from the law and the standards would govern all masseurs and masseuses. Violation of the law would be a Class A misdemeanor, with a maximum punishment of one year imprisonment.
State law defines the "massage" as "applying a scientifis system of activity to the muscular structure of the human body by means of stroking, kneading, tapping and vibrating with the hands or vibrators for the purpose of improving muscle tone and circulation."
"Because of the widespread use of the terms 'massage,' 'masseur' and 'masseuse,' those people who are legitimately engaged in this paramedical Profession have been their titles slandered by pimps and prostitutes," said Mr. Levy, who is chairman of the Joint Legislafive Committee on Consumer Protection. Times Machine.
Feb. 8, 1973 – Council Group Backs Massage Controls. Tighter controls over massage parlors and higher rates for towing disabled autos were backed yesterday by the City Council's Committee on Consumer Affairs. Times Machine
March 20, 1973 – "Lindsay Signs Bill Requiring Licenses In Massage Parlors. Mayor Lindsay signed into law yesterday a bill intended to wipe out sex from massage parlors. At the same time, enforcement officials geared to cope with anticipated subterfuges to keep prostitution going under the guise of other types of legal businesses.
City permits for masseurs and masseuses will be issued by the Consumer Affairs Department to persons who have received a state license after having 800 hours of instruction from accredited massage schools or to anyone of good moral character who furnishes medical certificates showing him or her to be free of communicable diseases and to persons who are registered at accredited schools. Violators will be subject to a maximum punishment of 90 days in prison and a $500 fine. Landlords who lease to illegal massage parlors can be fined $100 for every day the parlor is in business." Times Machine. Full Text.
Aug. 26, 1973 – "Professional masseurs, who use massage to soothe and relax other people, are themselves anxious these days about how the public views their profession. Years of bad publicity generated by the so‐called "massage parlors" have hurt business, they say, and most are hopeful that a new state law will help improve the public's image of massage. Mrs. Gertrude J. Fuller, director of the American Institute of Professional Massage, who is also secretary of the New York State Society of Medical Masseurs, agrees, saying that the bad publicity is "only a temporary thing."" The Article further talks about the Swedish Institue, one of the oldest massage schools and then says: ""What most people don't know is that the city had an excellent law," he said. "Then in 1968 the state law took over and said you don't have to be licensed if you don't want to. That's when the massage parlors opened up. "Massage was always the lowest rung on healing‐profession ladder to begin with, and this has kept it there. I don't think the new law is going to help it any."" Times Machine. Full Text.
Jan. 17, 1974 – "To Topless Masseuses, Job Has Cool Aspects. Eight former topless masseuses are seeking a State Employment Security Commission order giving them their old jobs, back pay and the right to unionize and eat submarine sandwiches. The women contend they were dismissed by the American Massage Parlor in Ann Arbor after organizing in October to fight what they called harassment by management." Times Machine.
April 17, 1973 – "licensed Masseurs Sue City to Exempt Them in New Law. State-licensed masseurs and masseuses, up in arms over a city law scheduled to go into effect tomorrow, a law actually aimed at massage parlors, have filed suit in State Supreme Court to prevent the law's being applied to them." Times Machine.
Dec. 22, 1973 – HODAS IS CLEARED IN TWO BOMBINGS. But Two Are Convicted in 'Massage Parlor' FiresMartin J. Hodas, the reputed "porno king," has been acquitted of charges of fire-bombing two competitive "massage parlors" on West 42d Street. In testimony at the trial, it was alleged that the two businesses were fire‐bombed after their owners failed to comply with orders allegedly from Mr. Hodas that they not lower their prices for a 15‐minute "massage." Times Machine.
April 17, 1974 – " Bar on Massages Dropped. The city of Philadelphia told a Federal court today that it would not enforce a city ordinance forbidding massages by persons to those of the opposite sex. The Velvet . Touch massage parlor filed a suit in United States District Court after several of its. masseuses had been arrested for violating the ordinance." Times Machine
June 9, 1974 – "Prostitution Is Flourishing In Rich 'Exurban Market. A 'Local' Isn't a Bus Run. The business of prostitution, embracing modern marketing techniques and skirting the law, is branching out from its downtown closet into Middle America. Like its cousin the blue movie, today's brothel is likely to be right around the corner — in the form of a massage parlor, lotion studio, nude photo club, sexual intercouse school, escort service, dial‐a‐massage, sauna bath house or some other thinly disguised supermarket for sexual services." Times Machine.
Dec 11, 1975 – "Zoners Ban 'Massage Parlors' in Times Square In an effort to force so-called massage parlors out of the Times Square area, the City Planning Commission unanimously approved a zoning amendment yesterday that would require "physical culture or health establishments" to be either in hotels having more than 200 rooms or in community facilities.
The commission's vote to zone out the so‐called massage parlors marks the first time a municipality has attempted to employ land‐use controls in Its fight against what authorities have labeled houses of prostitution in disguise. Licensing of the parlors has been Vied, but has failed.
Under the amendment approved yesterday, the only physical‐culture establishments permitted outside large hotels or community facilities are those having regulation‐size swimming pools, tennis courts or similar equipment. This language is intended to leave untouched legitimate gymnasiums, reducing salons and steam baths."Times Machine . Full Text
Dec. 15, 1975 – "Massage Parlor Fight on Coast Snagged by Curb on the PoliceLOS ANGELES, Dec. 14 A stumbling block has arisen to a controversial but apparently effective new effort to shut down so-called massage parlors and other sex shops, which the authorities say are really bordellos, by stationing uniformed policemen outside to stop and question patrons." Times Machine.
March 5, 1976 – Luxor Baths Being Secretly Converted Into a 9-Story Luxury Massage ParlorShoes Left Behind Clue to Occupants Arrests PromisedThe nine-story Luxor Baths, long a famous Times Square gathering place for men in show business, the sporting set and the garment industry, is being converted secretly and illegally into one of the most lavish "massage parlors" in the country. Times Machine.
Jan. 5, 1977 – "Battered and Bedraggled? Spend a Day Becoming Beautiful. The holidays were fun. But now you're bushed, battered and bedraggled, with a new year to face up to. It's time to call a halt, to take a day off and be good to yourself." Times Machine
Nov. 19, 1978 – "Drive Against 'Massage Parlors' In New York Is Gaining StrengthAs a result of a new zoning amendment passed by New York City's Board of Estimate, the clock has begun to tick in the city's newest effort to wipe out so-called massage parlors. The amendment defines an "adult physical‐culture establishment" as any establishment, club or business that offers or advertises massages, body rubs, alcohol rubs, baths or similar treatment by members of the opposite sex. It excludes from this definition establishments that provide services by a licensed physician, licensed operator of electrolysis equipment and those that offer instruction in the martial arts or organized athletic activities. It also excludes barberships or beauty parlors that offer massage to the scalp, face, neck and shoulders only." Times Machine
March 11, 1979 – Beauty. Smoothing Away Stress and Strain By the end of winter, New York is too much for many of us to cope with. A medium for escaping it all without leaving town is a good massage. Often better than tranquilizers and certainly cheaper than a trip to the Caribbean, a good massage can relax muscles. "There are several kinds of massages. Swedish massage is a relaxing type of treatment. Medical massages, administered by a doctor or a trained physical therapist, deal with specific physical problems and, technically, according to Dr. Willibald Nagler, chairman of the department of Physical Medicine and Rehabilitation Medicine at The New York Hospital‐Cornell Medical center, are "manual treatments to prevent conditions caused by enforced immobility." A third category is based on Oriental medical and philosophical thinking and includes shiatsu, acupressure and polarity massages." Times Machine. Full Text.
August 12, 1979 – "Therapy Association Combats Current 'Massage' Connotation. HARTFORD, Aug.10—"Protein is a poison—when you get bitten by a snake, it's pure protein," said Jo Willard, as the audience at the 34th annual convention of the American Massage and Therapy Association listened in rapt attention. But the massage therapists also wanted to talk about the confusion be- tween their craft, which they call "the oldest of the healing arts," and another profession, which is known simply as the world's oldest.
The so‐called "massage parlor," they said, is usually a front for prostitution or other illicit sexual activity."Our objection is that they go in disguise," said Jim Morton, whose card notes that he is licensed by the State of Nebraska to operate his Omaha studio. He said that, like most legitimate mas- sage therapists, he wanted to avoid confusion with "massage parlors."Times Machine. Full Text
Nov. 11, 1980 – Massage to go – Home-Delivery Beauty Services. An In-Home Service Prefer Booking Ahead. Times Machine.
June 28, 1981 – "MASSAGE-PARLOR BAN EXTENDED WESTBROOK "HOW gross do we get? There's a silent majority out there and we have to decide just what we want – we've got to speak up," said First Selectman Donald P. Morrison after 150 members at last week's Town Meeting voted unanimously to adopt an ordinance banning massage parlors." Times Machine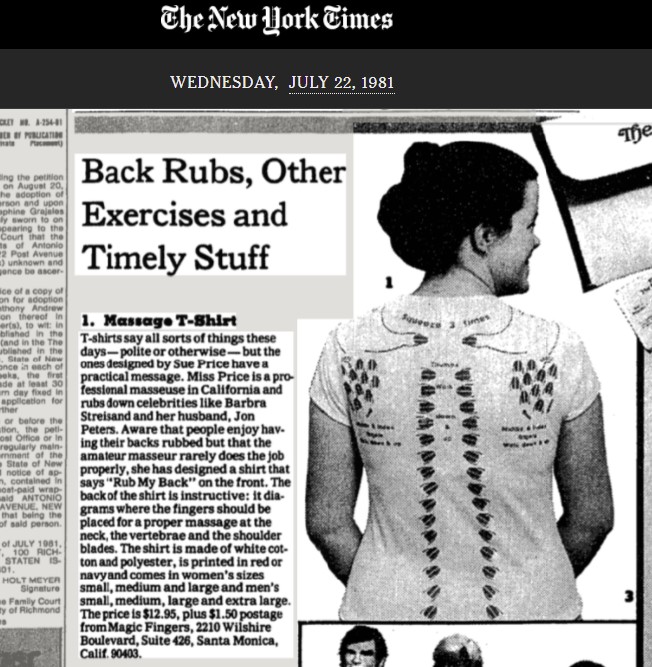 Jan 27, 1983 – "LEARNING THE ART OF INFANT MASSAGE"AND up … and down – straighten those legs," a voice called out. To a passerby, the staccato instructions coming recently from a basement room at Downstate Medical Center in Brooklyn suggested that an adult exercise class was in session. But a look inside revealed five naked, wriggling infants being gently massaged by their mothers – amid gurgles, grimaces and an occasional protesting wail." Times Machine
May 5, 1983 – "THE ADVANTAGES OF MASSAGE. GOOD MASSAGE is a potent tonic for mind and body. It can help relieve tension, stress and strain; temporarily aid blood circulation; make joints more supple, and act as a natural tranquilizer to induce pleasurable sedation. Medically, when performed by a physician or physical therapist, it can ease the pain of backaches, arthritis, bursitis, whiplash, sciatica and migraines." Times Machine
Feb 8, 1987 – WHAT'S NEW IN MASSAGE: DON'T say "masseuse." Massage practitioners who are moving their vocation into the mainstream say the term has unfortunate associations with prostitution. They prefer "massage therapist" or "bodywork practitioner. "With the emphasis on health and wellness, massage therapy is one of several choices people are making to improve their quality of life," said Robert King, president of the American Massage Therapy Association, the industry group that has the strictest training requirements for membership. The association has seen its membership grow from 1,100 in 1980 to 5,335 this year. The number of massage-therapy schools it has approved has also jumped, to 47 from 11." Times Machine. Full Text.
Feb. 8, 1987 – WHEN Apple Computer Inc. was developing its Macintosh personal computer, engineers on the project sported T-shirts that boasted: "Working 90 hours a week and loving it!"No wonder. Apple provided its hard-working crew with weekly massages, a perk enjoyed by nearly 400 employees, including chief executive John Sculley.When Apple's sales slowed in 1985, it stopped paying for the service, but about 80 employees still get massages in the office each week.
Feb. 8, 1987 – "MASSAGE has had a tenuous link with medicine for years. Nurses traditionally administered back massages to soothe the aches of bed-ridden patients, and even today many nurses and physical therapists study massage techniques"But now, in an attempt to expand its market, the massage industry is trying to forge stronger links with medicine. "We can't diagnose or prescribe, but we can respond therapeutically to a given set of situations a client may have," said Mr. King of the American Massage Therapy Association." Times Machine. Full Text.
June 24, 1989 – "83 Arrested in Raids At Massage Parlors: Eighty-three people, mostly Korean immigrant women, were arrested during raids on 10 massage parlors in New York City, but they were charged with breaking a state education law, the police said yesterday." Times Machine. Full Text.
Feb 16, 1992 – "Local Laws Irk Massage Therapists "WE'RE really taking a beating," said Tina Yoxtheimer, a massage therapist in Bridgeport, with a shrug of resignation. The city's Common Council had just enacted an ordinance requiring her to apply to the Police Department for a permit to practice therapeutic massage." Times Machine. Full Text
Sept 12, 1993 – "A masseuse and chiropractor, Ms. Davis lives in Long Beach, has a practice in Atlantic Beach and for the last several years has found herself at Jones Beach whenever older stars perform there. It seems to be the more mature performers who avail themselves of her services. Recently it was the Beach Boys." Times Machine. Full Text.
Sept. 17, 1995 – NEIGHBORHOOD REPORT: FLUSHING. Pickets Help Uproot Suspected Brothel, but Battle Goes On. Times Machine
June 22, 1996 – Massage Finds New Believers "After decades of being relegated to the margins of hedonistic exercise for the pampered and bored — or worse, a wink-and-nod cover for prostitution — massage, one of the oldest health treatments, is out of the parlor and finding enormous popularity among millions of Americans, from athletes to the aged.
With many of its techniques rooted in 4,000-year-old Chinese beliefs, massage is being used as a counterbalance in the lives of the exercise-exhausted and stressed-out. Indeed, the various styles of massage are quickly becoming as familiar to many as the best brands of low-fat yogurt. Even the Internet is loaded with thousands of Web sites and bulletin boards touting the "regenerative" virtues of massage. According to the American Massage Therapy Association, the oldest and largest group representing massage therapists, there are 120,000 to 150,000 massage therapists in the United States. (The industry has discarded the terms "masseur" and "masseuse" as not sounding professional.) Membership in the 52-year-old organization — now 24,000 — more than doubled between 1990 and 1995, it said." Times Machine

This article also mentions a place called the Great American Back Rub as a place to get massage. I am wondering if this was the first franchise in the massage profession. Everyone only talks about Massage Envy. Further research led me to an LA Times article that says:

"Great American Backrub Store Inc. opened its first store in Manhattan in October, 1993. A second opened there in March, 1994, followed four months later by a franchised outlet in Las Vegas. Within the next five years, the company hopes to expand into malls, airports, cities and suburban areas across the country.
"What I'm trying to create is the 'McRub' in the year 2000," said Bill Zanker, the company's founder and chairman."