1887 – First mention I could find so far on deep pressure: Manual of Treatment by Massage and Methodical Exercise By Joseph Screiber · 1887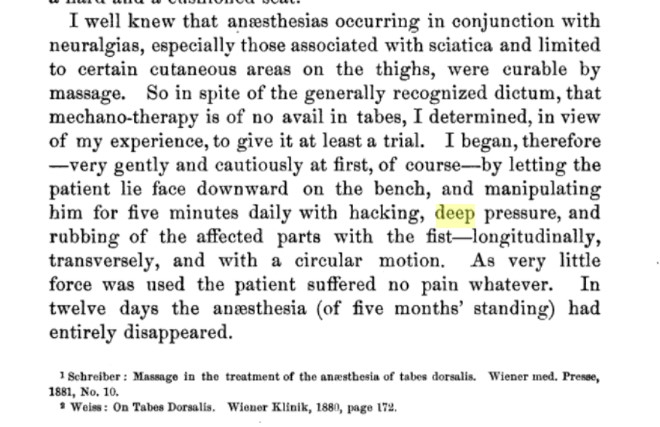 1893 – Recent developments in massage : historical, physiological, medical and surgical by Graham, Douglas, 1848-; Royal College of Physicians of Edinburgh. Full text/PDF at Archive.org
"There is a muscular sense which is different from the sensation on the exterior of our bodies, as most people know who have felt the delightful effects of deep massage 
when fatigued. Exercise will not take the place of massage except m healthy people with an abundance of latent energy."

"In my Treatise 
on Massage I have not only described the manner of 
using massage in such cases, but also the effects of 
friction and deep manipulation in the direction of the 
lymph and venous currents."
"The manner of using massage was by gentle stroking, or effleurage, on the posterior aspect of the limb, and deep vigorous manipulation on the lateral and anterior aspects. Sometimes it is well to use deep pressure so as to squeeze congestion out of a nerve, and then vigorous percussion over it so as to produce an obtunding effect."

1895 – The Practice of massage (Archive.org) By Arthur Symons Eccles

"Each finger must now be thoroughly rubbed and kneaded between the finger and thumb after the back of the fingers and hand have been treated in the same way as the palm; then with the ball of the thumb a series of rotatory movements will serve to knead the palm, and massage of the hand will be completed by deep kneading between the dorsal surfaces of the metacarpal bones followed by squeezing of the muscles forming the ulnar border of the hand and the fieshy mass between the index-finger and thumb."


1902 – TREATISE ON MASSAGE ITS HISTORY, MODE OF APPLICATION AND EFFECTS INDICATIONS AND CONTRA- INDICATIONS BY DOUGLAS GRAHAM, M.D. OF BOSTON, MASSACHUSETTS MEMBER OF THE AMERICAN ASSOCIATION FOR THE ADVANCEMENT OF SCIENCE ; OF THE AMERICAN MEDICAL ASSOCIATION ; OF THE MASSACHUSETTS MEDICAL SOCIETY, ETC.
Quotes from book:
"Dr. Balfour's book is mainly made up of reports of cases of rheumatism, gout, neuralgia, sprains, and the results of injuries treated by means of percussion, deep rubbing, and firm compression with bandages."
"The definition and manner of doing massage is not rendered any clearer by calling slow and gentle stroking in a centripetal direction effleurage; or by speaking of deep -rubbing as massage à friction ; or by using the term pétrissage for deep manipulation without friction, or by calling percussion tapotement. But custom having sanctioned the use of these words, it becomes necessary to mention them. The multiform subdivisions under which the various procedures of massage have been described can all be grouped under four heads, namely, friction, percussion, pressure, and movement. Malaxation, manipulation, deep – rubbing, kneading, or massage properly so called, is to be considered as a combination of the last
two. Each and all of these may be gentle, moderate, or vigorous, according to the requirements of the case and the physical qualities of the manipulators."
"The pressure of deep massage exerts a simultaneous influence upon all the tissues within its reach, upon the skin, fasciæ, muscles, vessels, nerves, etc."
"Deep massage without friction has proved of more value in my hands than all other forms of massage put together in the cases herein considered."

1940 – Therese Pfrimmer, a physiotherapist of Canada, founded the principles of deep tissue massage. Therese Phimmer, a Canadian doctor, analyzed Dr. Ling's massage technique in 1949 and created a book which stipulated new techniques and guidelines related to deep massage therapy. After her book titled "Muscles: Your Invisible Bonds" was published, the practice of deep tissue massage as a natural treatment for healing injuries begun to be utilized within the medical fields of sports and physical therapy. See also: Pfrimmer Deep Muscle Massage.
1970s, James Cyriax, M.D., known as the father of orthopedic medicine, developed a series of deep friction techniques for massage therapy that continues to be used in sports medicine today.
1940 – Ida Rolf created something called Structural Integration aka Rolfing. Her students took the work and made it their own. Many current deeep tissue instructors have trained with someone who trained with Ida Rolf.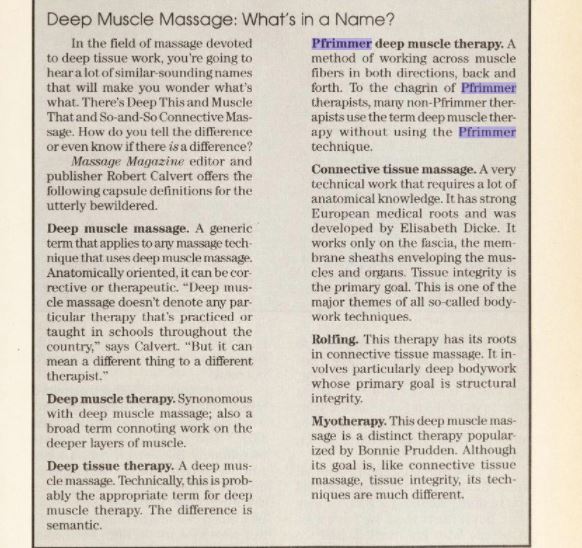 1995 – Prevention magazine's Hands-on healing : massage remedies for hundreds of health problems has an article on Pfrimmer Massage with a sidebar from Robert Calvert defining deep muscle massage, deep muscle therapy, deep tissue therapy, Pfrimmer deep muscle therapy, connective tissue massage, Rolfing, Myotherapy.
See also: Deep tissue massage definitions.