This is a very specific type of deep tissue massage. It is like a full body cross fiber friction massage. It was created by Theresa Pfrimmer in around 1946 when she was diagnosed with incurable paralysis in her lower extremities. She developed a type of deep cross fiber friction that she used on her legs to recover from this condition. Her book documented her findings , "Muscles-Your Invisible Bonds." The theory behind this technique says it works by stimulating the lymphatic and circulatory systems to promote cellular repair while removing hazardous toxins. More recent research has shown that massage does NOT increase circulation but works more on the nervous system.
This treatment's aim is to correct and prevent serious muscle conditions, such as those that occur with Multiple Sclerosis, Muscular Dystrophy, and Parkinson's Disease.
1908 – Born in Brussels, Belgium.
1914 – Family moved to Wisconsin
Trained in High School as a Masseuse
1938 – Moved to Goderich, Ontario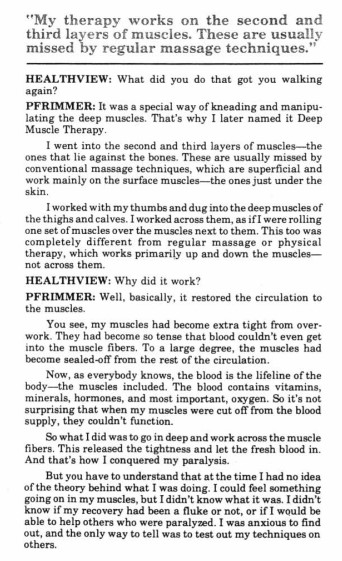 1946 – Became Paralyzed from the waist down. She says it was due to long work hours doing laundry after the war, taking laundry off of boats, lifting/repairing washers and doing the laudry. She said that her therapy works on the second and third layer of muscles which are usually missed by other therapists. It was a special way of kneading and working the deep muscles – hence the name deep muscle massage. After she recovered, she went to Chicago in 1948 to take post graduate courses in massage at the Chicago School of Massage Therapy under Dr. Ester Swanson.
She took a case of a paralysed woman (Ethel) in the hospital to fulfill her class requirements. The woman was nearly dead and her skin was purple. She was unable to move or speak and the deep muscle therapy allowed full recovery.
She began working in hospitals without pay to develop her work. As her work progressed, so did her following and a group of patients donated a bunk house that became her office space. Full story at IICMT.COM (PDF)
1971 – Began to train others in Deep Muscle Massage with two professionals attending (one of which was Theodoor Godron. Between 1971 and her death in 1980, she taught approximately 70 students at her Bayfield clinic.
As her health declined, Therese selected a professional therapist, Mary Kish, to assist her in teaching and to be responsible for inviting future Pfrimmer instructors. Mary, in turn, trained Victoria Ross and Ruthann Hobbs to be teachers. Eventually, Victoria and Ruthann were given the designation of the two official Master Pfrimmer InstructorsThat resulted in the two Master Pfrimmer Instructors, Victoria Ross and Ruthann Hobbs, and the two Pfrimmer Institutes in operation today.
1982 – Ruthann Hobbs founded the Alexandria School of Scientific Therapeutics, Inc. (ASSTI), with the help of her husband, Herb which is now closed.
Resources:
History of the INTERNATIONAL INSTITUTE FOR CORRECTIVE MUSCLE THERAPY The International Institute for Corrective Muscle Therapy (IICMT) formerly the Institute for Corrective Muscle Therapy (PICMT).
About Victoria Ross – Founder of IICMT
1978 – Healthview Newsletter Article on Theresa Pfrimmer. (PDF)
1979 – Healthview Newsletter: Interview Article. Interview with Theresa Pfrimmer. (PDF)
1994 – Massage Magazine. Interview with Victoria Ross
Therese C. Pfrimmer ​International Association of Deep Muscle Therapists – https://www.pfrimmer.com/