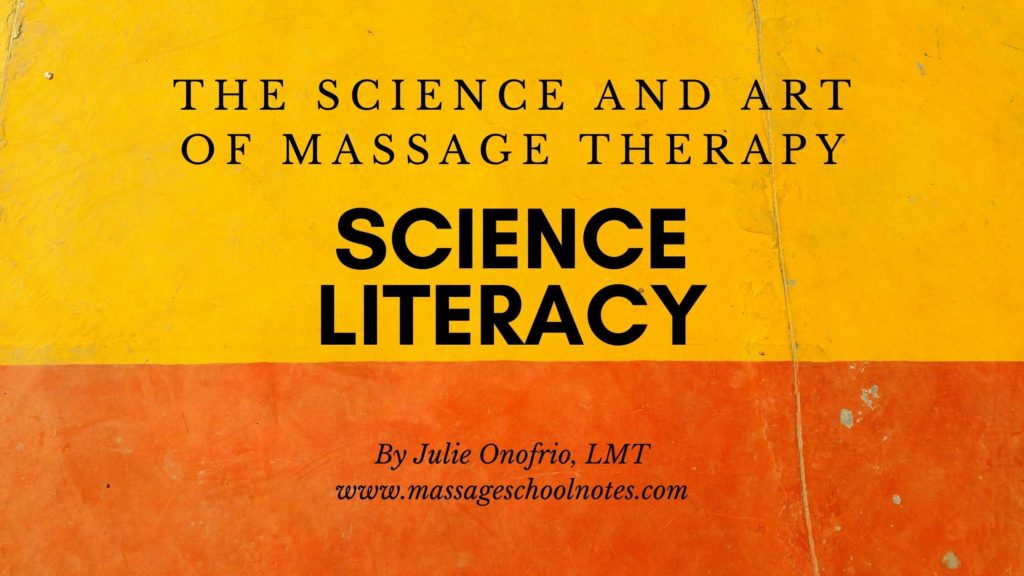 I wish this could be required learning for every massage therapist, student, teacher and every person! Understanding what science is and isn't can help us make better, more informed decisions on just about everything we do and say. It started with me taking an class called Science Literacy on www.coursera.org) which brought much clarity to me on the whole issue of why the skeptics are so skeptic on the many Facebook pages and groups.
How do we gather knowledge?
Indigenous Wisdom – Traditional knowledge and experience; oral tradition passed on by word of mouth and watching others; helps inform science community of things to be studied. More holistic.
Scientific knowledge – test, evaluate, validate and implement knowledge. Scientists break things down into data.
As scientists are trained to make use of evidence that was collected systematically to build theories, knowledge or understanding. But are we overlooking the value of shared observations that were not empirically collected? The specific systematic process of science, may blind us to ongoing observations within an experience, which may be useful in building or updating our knowledge as a whole. So the best way to acquire and update your knowledge is to keep an open mind to new information gained from science, media, or your own experience
What information is trustworthy?
As massage therapists, many of the things that have been taught in massage school have been based on tradition and the lack of scientific research. Some of the traditions handed down in massage school are things like:
Massage should not be done in the first trimester of pregnancy
Pressure points should be avoided during pregnancy
Massage releases toxins
Does massage decrease cortisol?
Does massage increase circulation?
Reflexology and the zones on the hands and feet
Craniosacral therapy
Cupping therapy
Acupressure, Shiatsu and any other meridian based traditional healing
Does massage work and how does it work?
Conditions treated with massage – what works and what doesn't?
Does taping work?
Does foam rolling work?
As we have learned more, we now know you can massage women during the first trimester of pregnancy and the pressure points do not induce labor. As far as toxins, the debate starts with the definition of the word and how it is used. It has become a marketing term to describe the waste products of normal cellular metabolism. Toxins can also be defined as chemicals that interfere with the body's processes like pesticides, hormones, toxic air pollution and such. We do know that people will sometimes feel like they are getting sick the day after a massage or will actually get a cold or flu and we really don't know why.
Many of the various types of massage are handed down through tradition – even basic Swedish Massage. We get attached to the things we learn thinking we paid good money for this so it must be correct. Many schools are moving toward evidence informed massage but people who have gone to school a long time ago may have not kept up with the latest research.
What makes evidence scientific?
People and their opinions make for lively conversations mostly in one's that no one is really listening and they want their opinion to be known and recognized as truth. With Science, we collect information in a systematic way and use systematic observations to evaluate a specific theory or hypothesis.
Science is a process of evaluating evidence
Science and scientists are not perfect though– they are human too. They are biased and can make mistakes in the process of collecting or evaluating evidence. The thing about sciences is that studies have to be done over and over and produce the same results. The process is almost endless, but it is what we have. How many studies does it take to prove beyond a doubt that something works 100% of the time in the same way? Science just keeps learning and improving as we go along. We learn from what works and what doesn't to form new questions to be studied.
Getting the Evidence out to the massage profession.
So how do we change people who hold onto tradition without having the evidence to support it? People may have evidence that it works on the massage table and they see it all the time. You can't convince anyone otherwise and trying just makes it worse usually (as seen in the many online discussions where the science based massage therapists are battling the opinions and evidence found at the massage table. Instead of the constant criticizing and arguing, could there be a better way to educate massage therapists and create more evidence informed practices?
Aristotle taught about three basic modes of persuasion and it is still used today. A model for creating a well rounded argument includes 3 things (Rhetoric) :
Logos – the idea or concept needs to make sense from the listener or viewers perspective. They already have a preconceived idea based on tradition which is very closely held belief. It is personal to people. It is usually different from the scientific view. The theory or concept needs to make sense to the person.
Ethos – reputation; credibility; trustworthy; what you are known for.
Pathos – the emotional reaction; an emotional connection is needed to be able to persuade someone of something that they hold dear.

This is a great video that explains it:
Bias
We all have it. Scientists are trained to think critically but they are not immune to bias.
When thinking intuitively, we rely on heuristics or stereotypes, which allow us to make faster reactive decisions. Sometimes these instincts are correct but for the most part they are not correct. When there are high levels of fear or stress, most people rely on their stereotypes. What's familiar to us, however, is biased by our past experiences and our current level of knowledge. Just being exposed to information will make whatever that bit of information is seen more believable. It's called the mere exposure effect.
Confirmation Bias means we find evidence that supports our own theories. It's easy to recognize bias and others, but many of us seem to be blind to our own. This is called our bias blind spot. It when you can see something in others that you can't see in yourself. It is when you think you know what someone else should be doing or saying, when it is you who should be looking at that in yourself.
Isn't Science just a theory?
Science is a process. It is an approach to making sense of evidence. In our everyday conversations we tend to use the word theory for our own hunches and instincts on the way the world works. In Science, it is much more ….well scientific. It can't be just one event or one observation. Science takes all of the evidence available to make the best possible conclusion. That is why we need more evidence and research in the massage profession.
Science doesn't set out to 'prove a theory'. The available evidence is all we have to go on. The more evidence we get, we can make better decisions about the accuracy of the theory. Theories are constantly overturned like the theory that massage reduces cortisol. The strongest evidence we have on this topic is a metanalysis done by Chris Moyer that show that massage DOES NOT reduce cortisol.
Does massage therapy reduce cortisol? A comprehensive quantitative review Christopher A. Moyer, Ph.D ,Lacey Seefeldt, B.A. Eric S. Mann, B.A. Lauren M. Jackley DOI:https://doi.org/10.1016/j.jbmt.2010.06.001
Part 2: Science vs Pseudoscience