Timeline History of the NCBTMB
In 1958, AAMM (now AMTA) required that members of the organization must go to an AAMM school and pass a final exam. They also used to have to pay state fees and dues and also must be sponsored by an active member. For a brief time in the early 1970's, active membership was limited to those graduating from AMTA approved schools.
1988 – AMTA loaned $150,000 to create the NCBTMB and a steering committee and the money was paid back by the end of 1996. There was no reasearch as to whether or not this was needed for the profession at that time. Earliest promotional materials were sent to all AMTA members including an 8 page booklet Update on the National Certification Program for Massage therapists and an informal brouchure called "What is Certification".
1990 – AMTA published a 36 page booklet called "In Touch with the future, Massage Therapy in the 90s: Issues of Professional Development"
July 1990 – Job Task Analysis mailed to 6930 AMTA members.
Oct 1990 – Results of Job Task Analysis published
June 27, 1992 – First exam administered. The exam was 150 multiple choice questions and the cost to take the exam was $165.00.
1993 – Magazine advertisements started. "Show your committment to excellence". "over 13,000 Massage therapists and Bodyworkers can't be wrong".
Nov 1994 – The NCBTMB incorporated separately from the AMTA.
July 1995 – NCBTMB created a consumer awareness campaign in July 1995 in New York City.
April 2001 – Massage Today April, 2001, Volume 01, Issue 04. "A group of representatives from various state massage regulatory agencies met in August 1999 to join forces in establishing the National Alliance of State Massage Therapy Boards (NASMTB)." Massage Today on Archive.org
Mission Statement
The National Alliance of Massage Therapy State Boards (NASMTB) mission is to serve as a resource to the member boards in their efforts to improve the quality, safety, and integrity of massage therapy services in the interest of public health, safety, and welfare by:

– Sharing and disseminating information to promote uniformity in the regulation of the practice of massage therapy.
– Serving as a source for regulatory information for the public, government, and other professional regulatory boards.
– Addressing multi-state massage therapy regulatory issues.
– Encouraging research to enhance education, evaluation, and examination for licensure and/or certification as well as continued competency in massage therapy.
May 2005 – ABMP hosted a meeting initiated by President Bob Benson and Exec. VP Les Sweeny with two main objectives; 1) to discuss the potential formation of an alliance or federation of state massage therapy boards and 2) to discuss the potential development of a new entry level exam for massage licensing. The meeting was to explore there was a need for such a board and new exam. The answer was Yes, there was a need.
2005-2009 – Timeline of when states adopted the NCBTMB from Massage Magazine
July 2005 Article in Massage Today – New Organization Formed to Benefit Massage Therapy By Cliff Korn, editor
Nov 2005 – Federation of Massage State Boards created. AMTA Convention that year had ABMP in attendence. The two organizations had a difference in opinon over the creation of the Federation. Ralph Stephens wrote about it in Massage Today saying:
The ABMP was supporting regulation and the AMTA was warning against it. What a switch. The same arguments used against the AMTA and National Certification such as, "this is happening too fast," and""not all the stakeholders are being included," as well as,""only part of the truth is being told" were suddenly coming from the AMTA and National Certification. How about that? Massage Today article – The Shoe's on the Other Foot Now.(archive.org) Ralph Stephens, BS, LMT, NCBTMB. November, 2005. Vol. 05, Issue 11 Archive.org
Nov 2005 – Editorial in Massage Today by Cliff Korn.
"FSMTB was envisioned to be an entity to support individual state's massage regulatory boards and to help enable reciprocity/portability. FSMTB will take an active role in advocating for efforts to establish compatible requirements and cooperative procedures for the legal regulation of massage therapists, in order to facilitate professional mobility and to simplify and standardize the licensing process. FSMTB also will seek to improve the standards of massage therapy education, licensure, and practice through cooperation with other entities in the field that share this objective.
…A letter from the American Massage Therapy Association suggesting such a move might divide the profession. The letter from the AMTA Board of Directors said in part, "…it was indicated that this federation would be creating an exam. Because the profession already has a test accepted by most states that currently regulate massage therapists, we encouraged this new federation to work with the NCBTMB and its new leadership to strengthen the existing exam.
The AMTA statement also said, "The AMTA Board would like to reaffirm our long-standing support of the concept of a federation of state massage therapy boards. This concept can provide a venue for states to communicate about the value of professional standards, fair regulation and improved portability of massage therapy."
While actively exploring the option of creating a new massage therapy credentialing examination that would meet the specific needs of entry-level licensure at the state level, the FSMTB states that they recognize the scope and potential impact of such a choice and have initiated a dialogue with NCBTMB to explore the possibility of the two organizations working in collaboration to improve NCB's existing exam program.
The Board also voted to hire Rick Rosen, MA, LMBT as Executive Director, and established an administrative office at 3 Terrace Way, Greensboro, NC 27403-3660. "
Nov 2006 – John Page, Executive Director let go as NCBTMB after 15 months on the mob as NCBTMB moves from MacLean, Virginia, to Oakbrook Terrace, Illinois. Searching for new Ex. Director.
Sept 2009 -The Advanced Certification beta exam will go live April 2, 2010. NCBTMB will then analyze the responses of test participants and make determinations about the questions that will appear on the final exam, which is slated for delivery before June. NCBTMB announces new certification exam. Massage Mag.
Oct 2009 – Certificable article on ABMP by unknown author.
Nov 2009 – NCBTMB blog started to explain adavance certification.
February 23, 2010 – The National Certification Board for Therapeutic Massage & Bodywork (NCBTMB) has announced it will be exhibiting at the Integrative Healthcare Symposium in New York City, Feb. 26 to 27, 2010.
"NCBTMB will also highlight some of the evidence-based research available on massage and its role in treatment plans; data that demonstrates the effectiveness of massage for patients experiencing pain, anxiety and/or depression due to cancer, psychological disorders, osteoarthritis, fibromyalgia and other conditions.
In addition, NCBTMB will provide symposium attendees with information about its accredited exam programs. Representatives will explain that, by hiring national board certified therapists, employers are assured patients are treated by practitioners who are held to the highest ethics and standards in the profession." Massage Magazine Press Release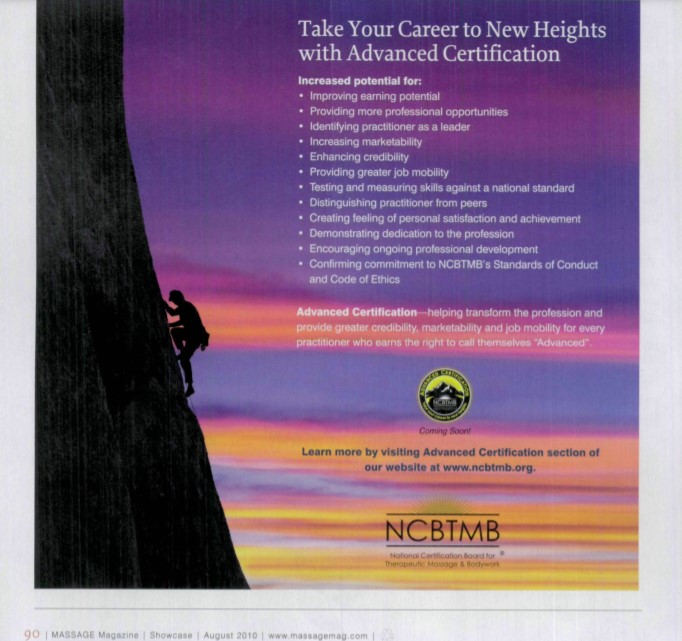 Dec 2010 – NCBTMB announces they are creating a new National Certification for advanced Practice."The credential will be the first to enable accomplished practitioners to differentiate themselves in the massage marketplace," stated an NCBTMB press release. "It will also make it possible for employers and members of the conventional and integrative health care arenas to hire practitioners based on a certified, advanced level of experience and expertise. Massage Magazine. See add in Massage Mag.
February 24, 2011 – The National Certification Board for Therapeutic Massage & Bodywork (NCBTMB) Board of Directors announced today they have unanimously confirmed the appointment of Leena Guptha, D.O., to serve the remaining three years of a four-year open seat on the board. Massage Magazine Press Release
April 7, 2011 – NATIONAL CERTIFICATION BOARD FOR THERAPEUTIC MASSAGE & BODYWORK ANNOUNCES JOB TASK ANALYSIS RESULTS MASSAGE Magazine
National Certification for Advanced Practice (NCAP) JOB ANALYSIS STUDY
Prepared for the: National Certification Board for Therapeutic Massage & Bodywork
April 2011 Prepared by: Lynn C. Webb, Ed.D. Psychometrician
May 5, 2011 – THE ALLIANCE FOR MASSAGE THERAPY EDUCATION OFFERS NEW VISION FOR NATIONAL CERTIFICATION. Massage Magazine. "According to Rosen, "Now that we have licensure in most states, entry-level certification has been rendered unnecessary and redundant as a first credentialing step for those coming into the field. NCBTMB now has an excellent opportunity to upgrade and reposition its existing national certification program to a graduate-level credential." See AFMTE's Position Paper
Sept 2011 – The NCBTMB Board of Directors announced today that Paul R. Lindamood has stepped down as CEO of the National Certification Board for Therapeutic Massage & Bodywork. "Paul has played a pivotal role in refocusing the direction of our organization and taking a firm line on reducing expenditures, bringing our organization back into financial solvency," said Alexa Zaledonis, Chair of the NCBTMB Board, "and for that we will be forever grateful." Paul was instrumental in moving the organization through a tough transition period byexecuting strong communication, public relations and government relations programs.
Additionally, Paul oversaw, and guided, the progress of the Advanced Credential, the first
for the profession. NCBTMB press release on archive.org
Jan 2012 – WEST VIRGINIA PUBLIC EMPLOYEES INSURANCE AGENCY TO REQUIRE MTS TO BE NATIONALLY CERTIFIED, INSURED. Massage Magazine News. Additional News Massage Magazine.
This is the most important point of having a Board Certification.
Currently, massage therapists may bill West Virginia's Public Employees Insurance Agency (PEIA) when they provide massage to public employees. However, according to a recent article in the Charleston Daily Mail newspaper, soon about two-thirds of the massage therapists currently able to engage in such billing will be disqualified from doing so. Yet, another possible scenario was the discontinuation of all billable massage to employees.

According to a press release from the National Certification Board for Therapeutic Massage & Bodywork (NCBTMB), "Initially, the PEIA Finance Board considered discontinuing massage therapy coverage altogether as a cost-savings measure, but with input from NCBTMB, the American Massage Therapy Association (AMTA) and practicing therapists, it will still cover active employees and non-Medicare retirees who visit massage therapists with national certification."
March 14, 2012 – NCBTMB announces they are phasing out the National Certification Exam. Massage Magazine Article
March 2012 NCBTMB Press Release on archive.org. NCBTMB will no longer pursue the development of the National Credential for Advanced Practitioners. After extensive feedback from the profession, and a further look at the difficulty in testing the requisite knowledge, skills and abilities for such a level of practice, the exam was deemed inappropriate for the current needs of the profession. Rather, it was discovered that higher standards for certification were desired, and the new Board Certification credential, soon followed by the development of specialty exams, will provide a pathway for career success.
July 2012 – NCBTMB announces new requirements for new Board Certification which includes 750 hours of education. Massage Magazine
Oct 2014 – The Federation of State Massage Therapy Boards (FSMTB) and the National Certification Board for Therapeutic Massage and Bodywork (NCBTMB) have worked cooperatively to reach an agreement that the NCBTMB will no longer provide examinations for licensure purposes and will now focus exclusively on delivering quality certification programs. This supports the common goal of the FSMTB, Associated Bodywork and Massage Professionals (ABMP), American Massage Therapy Association (AMTA) and the Alliance for Massage Therapy Education (AFMTE), for the Massage & Bodywork Licensing Examination (MBLEx) to be utilized as the sole licensure exam for the profession, thus facilitating licensure portability for therapists. Massage Magazine Press Release
December 18, 2013 – FOR THE FIRST TIME, BOARD CERTIFICATION IN MASSAGE THERAPY COUNTS TOWARD A COLLEGE DEGREE. Massage Magazine.
Aug 2016 -NCBTMB launches online store.
2016 – NCBTMB ends National Certification Exam.
2016 – The National Certification Board for Therapeutic Massage & Bodywork (NCBTMB) announced in April that interim CEO Leena Guptha, D.O., B.C.TM.B., had left the NCBTMB and Steve Kirin had resumed his role of CEO at the organization. Guptha was named Interim CEO on March 31, following an announcement that Kirin would not renew his contract with the NCBTMB. ChairElect Bruce Baltz, L.M.T, B.C.TM.B., assumed the role of chair at that point.
March 2017 – The National Certification Board for Therapeutic Massage & Bodywork (NCBTMB) announced today Teresa M. Matthews, LMT, CPT, BCTMB, has been named Chair of the Certification Board, effective immediately. Massage Magazine Press Release
April 2017 – Battle over control of CE heats up between NCBTMB and FSTMB. Don't reinvent the wheel. Opinion: New CE approval program is bad for many reasons. Whitney Lowe. Massage Magazine
Oct. 2017 – Heart Touch teamed up with the National Certification Board for Therapeutic Massage& Bodywork (NCBTMB) to offer massage therapists anew curriculum to help those dealing with chronic,debilitating pain.
Feb 2019 – The National Certification Board for Therapeutic Massage & Bodywork (NCBTMB) announced Rebekah Owens, LMT, BCTMB, and Dolly Wallace, LMT, BCTMB, were positively voted through by Certificants to join the NCBTMB Certification Board. Additionally, Portia B. Resnick, LMT, BCTMB, was named President-Elect. All three roles are effective as of March 1, 2019. Massage Magazine Press Release
December 21, 2020—The NCCA re-accredited the NCBTMB Board Certification in Therapeutic Massage and Bodywork (BCTMB®) designation for a five-year period, expiring April 30, 2025, during its recent meeting. Massage Magazine Press Release
Dec 2021 – NCBTMB announces that it is stopping the specialty certifications and will be focusing on the Board Certification.