One of the most important things you can do for your massage business is learn how to build a referral network to keep your massage business going strong. This is about creating relationships with others who will complement your business. There are many types of referrals. Start with your current clients by just asking them to send their friends and family your way. Most are happy to help. Explain that you are building your business. You don't need to offer them incentives other than your great massage.
Then getting referrals from doctors and other health professionals can be a good source of new clients.
The first thing to think about is who do you want to get referrals from? What type of work are you doing? What kinds of clients do you want to work with? Special diseases and conditions? Athletes? Car Accidents? What solution do you provide? Different doctors will be sources of different kinds of clients.
Chiropractors tend to get a fair amount of personal injury cases or car accidents although some people will go to their primary care doctor to start with. Many doctors do not understand the role that massage has in healing inflammation and may advise against massage. Finding people who do support massage will be the goal rather than trying to educate doctors who don't already refer to massage therapists. You can do that later when you have more time because it will take longer to educate doctors of this nature.
Create a list of potential health care providers. Check out their credentials and talk to them first about what they do, what kinds of things that they work with and what their results are. Go to these doctors yourself and experience their work. Would you go there yourself or send your mother or partner there? Would you send your kids there for treatment? Early in my career I went to a chiropractor for my own health reasons and he hooked me up with an attorney and they both ended up being frequent sources of referrals.
Create a campaign to contact these providers. You will have to test what works best. You can try contacting them by letter or email. You can directly ask for referrals and explain what you are doing or you can approach them more from an aspect of learning about their work. This can make them more receptive to sending you referrals. Send them some clients first to show them you respect them. Don't expect referrals back but do it from a place of just being able to provide the client with the best care.
You can also start by just contacting a health care provider who may have already sent you a client. Send a 4-6 week simple progress report to show them what your massage is doing. Most will actually like to know. Once they start seeing the results you have a better chance of getting more referrals.
Call the provider when you have questions about caring for a client. Do they have a new disease or condition that you need to know more information about? Some will also just refer to you and say something like ' evaluate and treat' which is giving you free reign. You can send a report to show your findings from your assessment. And yes massage therapist can not diagnose but they can surely report findings such as loss of range of motion and postural analysis.
What other ideas do you have for building a referral network of providers for your massage business?
I have a more in-depth explanation and other ways to build your massage business in my Ebook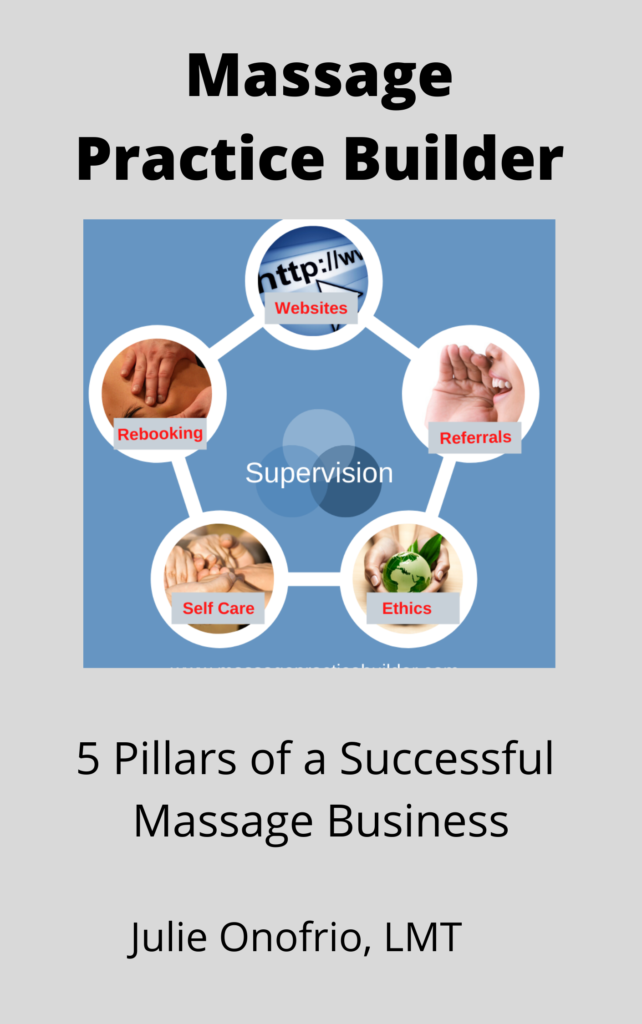 $24.95 (PDF)
Download directly to your computer.
Puchase now through Clickbank.com secure servers.