Aston Kinetics is not a type of massage but does include some massage/hands on techniques to go along with the movement system. The idea is that the body is not symetrical and Aston Kinetics works to gather info from a client's history and they way they move to create a plan to help them to improve their movmement patterns no matter what their posture is like.
History of Aston Kinetics
It was created by Judith Aston, who taught movement and physical education in the 1960's. In 1968, she worked with Ida Rolf to create the movement portion of Structural Integration for the Rolf Institute. Ida had wanted her to create something that would help keep the Rolf Line – the perfect posture that was sought during the process of structural integration.
1971 – Judith taught her first class for the Rolf Institute and called it Movement Analysis. This class became a requisite for training for Rolfers from 1971 – 1977.
1971 – First trainings offered in Rolf-Aston Structural Pattern
1972 – Took first training with Mosche Feldenkrais which was down the hall from a Structural Integration training. Coined the term Functional Integration. From An Interview with Judith Aston, part II PUBLISHED BY STRUCTURAL INTEGRATION: THE JOURNAL OF THE ROLF INSTITUTE SUMMER 2002
Somewhere along here, Aston realized that she was going way beyond the basics of Rolfing and had found a new paradigm that honored the body's assymetries.
In 1976 she brought together her many years of learning and experience to create what she called the Aston System, (Aston Patterning, Aston Paradigm).
1977 – Taught first class in Arthrokinetics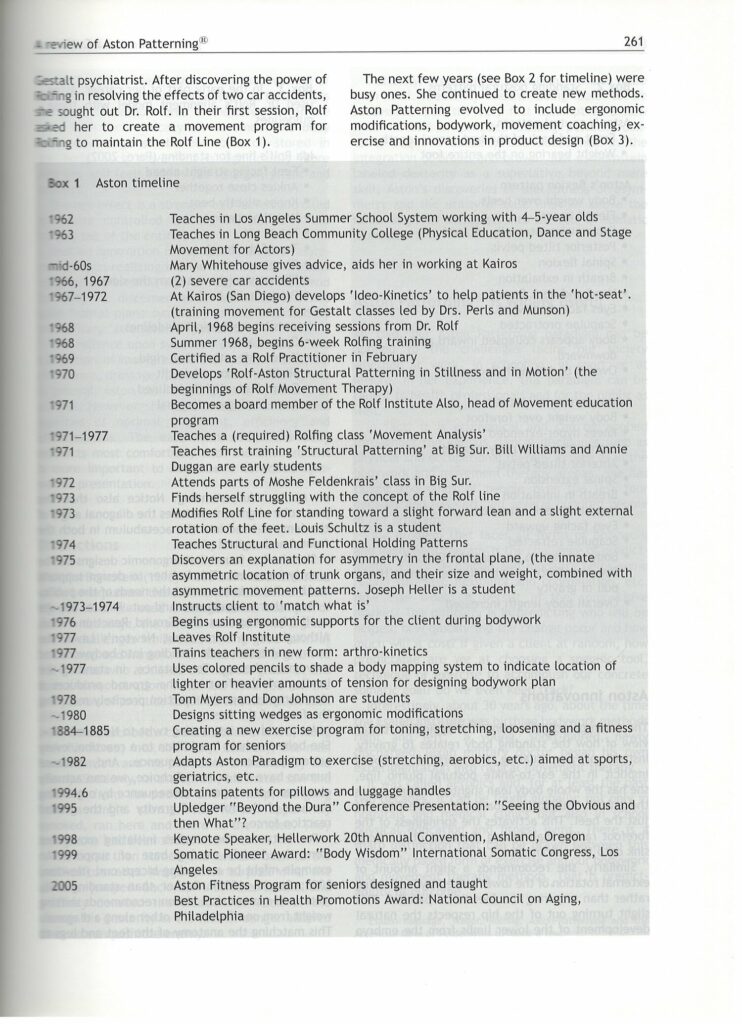 The Six Initial Concepts of Aston Kinetics are:
Finding Neutral position
Moving through three dimensions
Utilizing Optional Bases of Support
Negotiating asymmetry
Accessing forces of gravity and ground reaction force or GRF
Allowing cooperative movement
Improvement in achievable for all of us. Yet in order to improve or heal the body, I believe we need to start with the way the body is, not the way we wish it could be. Judith Aston
Aston Bodywork Techniques
Aston Massage – Spiraling Technique with hands that is a type of fascial integration that works to connect fascial layers to the whole body. Uses spiraling, impressing and contouring strokes to help reduce functional holding patterns in the various levels of tissue.
Myo-Kinetics – Developed in 1979 is a specific set of three-dimensional hands on strokes that go through the superficial or deeper tissues.
Arthro-Kinetics – Developed in 1976; Three dimensional technique to address the tensions in the joints and articulations of the body or with things like scar tissue or hypertoned tissue. Works specifically with the joints and not just the muscles/tissue surrounding the joints.
Also developed Aston Fitness, Aston Pilates, Aston Yoga.