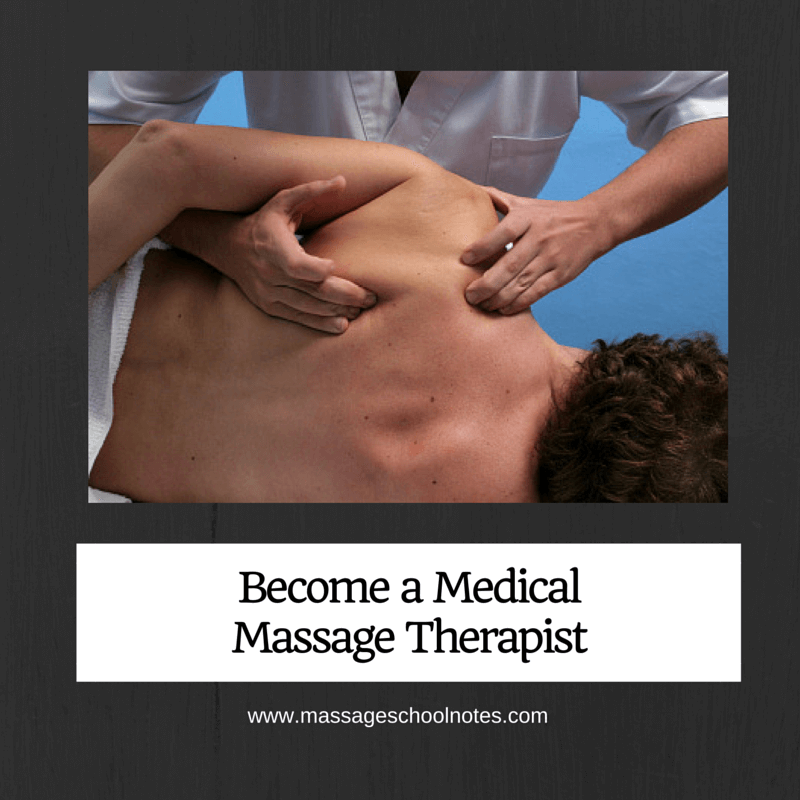 One of the career paths you can choose in your massage career is that of becoming a medical massage therapist. It is also sometimes referred to as a clinical massage therapist or science based massage therapist.
The Medical Massage Therapist is a practitioner who focuses on working with all sorts of medical conditions and injuries. Massage can help so many things like:
Pain: Neck, back, should, hip, leg, knee, ankle, foot pain of all sorts.
Stress
Headaches
Pulled, strained, sprained muscles
Fibromyalgia
Plantar Fasciaits
Tennis Elbow, Golfer's Elbow
Herniated Discs
Massage is being used in hospitals in pain and headache clinics, OBGyn departments for labor and delivery and in cancer wards where massage can help relieve the stress of cancer treatments. It is used in hospice centers for helping people through the dying process.
All massage is medical really in that massage that is done anywhere in any manner, is really about healing. Massage at a spa while it may seem like a luxury it is really good medicine.
Massage Therapy is being accepted more by health insurance. WA State is the leader in this arena with a law called the 'every category law' that mandates that massage be covered by health insurance. Many other states there are many insurance plans that will pay for massage despite not having any laws that mandate coverage. We are way behind in getting massage accepted by healthcare but we do have a good start with WA leaning the way. Our professional associations should be assisting in this effort, but there is much work to be done.
In most states, you can bill car insurance when a person is injured in a car accident. If they are hurt at work, many states also will cover massage as rehabilitation to get back to work. (Labor and Industries/Workers Compensation.)
The term Medical Massage is actually a little confusing. There are many people and schools who will say that they are teaching 'Medical Massage' and what they mean is they are teaching how to work with various medical conditions. There is no ONE SPECIFIC Technique that is uniquely 'MEDICAL MASSAGE".
Medical Massage is more about taking the various techniques of basic massage, deep tissue massage, myofascial release and really any TYPE of massage and learning to apply it to the many medical conditions that massage can help.
Medical Massage Jobs
As a Medical Massage Therapist, you may be able to find jobs in various places.
Work for a chiropractor or other medical professional
Work in a medical clinic that specializes in pain/stress/injuries/conditions
Hospitals and Hospice Services
Pain Clinics
Eldercare, Nursing Homes, Assisted Living Centers
Cancer centers
Therapists should be hired as employees as there are many laws such as kickback laws that restrict employers from hiring massage therapists as independent contractors (IC's). Independent contractors are often paid a percentage of the fees collected making it a kickback. Check the laws in your state and understand the difference between employees and Independent contractors. Many massage therapists are mis-classified.
Medical Massage Therapist Job Description
As a medical massage therapist, you will need extensive training in anatomy, physiology and pathology. You will need advanced training if you want to work with cancer patients or work in hospital settings. You will need these skills and knowledge.
Clinical decision making skills
Able to work with other medical professionals that will be directing your sessions
Skills in writing chart notes to track patients progress that will tell the insurance companies what you are doing and show that massage is medically necessary.
Emotional Intelligence and Maturity to be able to work with people who are sick and in pain.
Understand research and keep up with the latest research on massage and how/why it works and what works best.
Understand insurance billing and processes if working in a clinic environment.