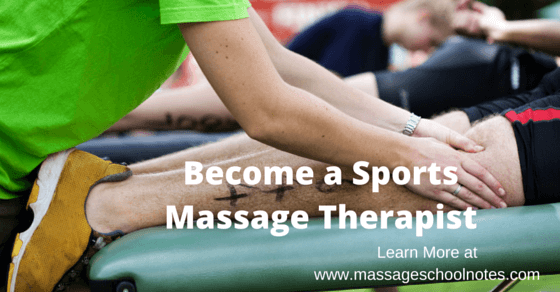 Sports massage therapy is one of the more popular sectors in the massage profession. It really isn't a specific technique or method called Sports Massage. It really is more about learning to apply the principles of massage to everyone who engages in physical activity and sports of any kind. It could be helping someone who just works out regularly at the gym to keep in shape to someone who works out for 8 hours a day to compete at the Olympics or on a professional sports team.
The two main goals of sports massage are to assist the athlete in achieving their peak performance which also means keeping them from getting hurt and to help in the process of rehabilitation when an athlete is injured. Professional massage therapists who specialize in sports massage can work with all calibers of athletes – from the weekend athlete, the serious amateur competitor in sports like triathlons, golf and soccer, kids sports teams, masters level athletes and all the way up to college and professional sports teams and players. Athletes have very special requirements because of the excessive and often extreme training regimes that they put their bodies through. Massage is being done at the Summer Olympics 2012 (and has been done on Olympic athletes since the Olympics started in Ancient Greece. Sports teams such as football, track and field, soccer and baseball teams (just to name a few) use massage therapists regularly to enhance performance, reduce the risk of injury and help heal player's injuries.
Your career in sports massage will begin with finding a massage school that will have some basic sports massage classes that can help you get started. Massage school really is just where you will start the process. You will start with learning basic Swedish massage therapy as well as the basic anatomy and physiology courses in basic massage school. Basic sports massage classes in massage school can help you start on your career path in working with the weekend athlete or people who are training for fun runs and events like the Breast Cancer Walks that have people of all levels of fitness who want to participate in activities for a good cause or just for fun. You can work with people who enjoy sports for the fun of it like hiking, climbing, cycling, running or things like Yoga or Pilates. You can work with people who are serious about working out. You can work your way up to working on athletes who compete in 5-10k runs or 20-50 mile cycling events. Then on to serious competitors like people who do triathlons, master's track or other sports. You can also work your way up to working with college and professional sports teams. Working with professional athletes requires more experience and training. You really need to know what you are doing at that level of competition. An athlete can not risk having massage make them worse, which can happen if you don't know what you are doing.
Many sports massage therapists will also go on to be an athletic trainer or many athletic trainers will become massage therapists as the two are very complementary.
Career Opportunities in Sports Massage
As a sports massage therapist, you will have the opportunity to work with athletes in any and every sport.
Men in the massage profession may be more successful focusing their careers on the sports massage track.Men in the massage profession are the minority and often have a difficult time in the relaxation or spa sector as many places prefer to hire women who are more in demand.
Here is a short list of some of the possibilities. It does not list every sport out there, but massage can be applied to basically any sport out there by becoming aware of what is needed in that sport and some of the challenges in doing that sport.
Running – joggers, treadmill runners, 5k runners, 10k runners, half marathoners, marathoners, sprinters, relay racers.
Cycling – weekend bike riders, exercise bikers, serious Spinners, mountain bikers, cycling association riders, track competitors, Tour de France riders
Triathlons- beginners, sprinters, half and long events, full and ultra triathlons.
Football – kids, high school, college, NFL
Baseball – kids, high school, college and professional teams Basketball – kids, high school, college and NBA
Soccer – kids, high school, college, professional
Tennis – kids, high school, college, professional
Badminton
Acrobats (Cirque de Soleil!)
Cheerleaders
Ultimate Frisbee
Golf – amateurs and professionals of all levels and ages
Weight Lifting – fitness lifting, training for other sports, cross fit, boot camps, high school, college, professional Track and Field – every event
Skiing – Cross country skiing,Downhill skiing, every level from weekend skier to Olympic and Professional competitors
Ice Skating
Professional and amateur dancing – ballroom, ballet, jazz, hip hop
Bowling
Archery
Swimming and Diving at all levels, ages.
Surfing
Horse back riders – Western, Dressage, Hunter Jumpers, Rodeo Riders
Sports massage therapists have been seen at some of these events:
Education and Training
Basic Massage School is required to become a sports massage therapist. Each state has a different number of hours of education that are required to become a professional massage therapist. You will have to find out what is required in your state and then find a massage school that will fulfill those requirements just to become licensed to practice massage. Basic massage school will consist of anatomy and physiology courses (learning the structure of the body and how the body works), kinesiology courses (how the muscles move the body), pathology (diseases and conditions), Ethics (learning to set boundaries that support you), Massage Theory and Practice and Business/Marketing. Many schools will offer the beginnings of classes in clinical massage (massage for injuries) as well as other types of massage such a pregnancy massage, hydrotherapy, spa massage, hot stone massage and deep tissue massage basics.
Most schools will offer some type of basic training in sports massage so that you can get some ideas of what it is and how to start thinking about working with athletes. It is usually enough information to get you started working with weekend athletes and people who work out regularly.
Working with sports teams at any level will require more training and experience as each sport is unique and requires that you know how the body is used in each sport so that you can apply the massage in the correct way, at the appropriate times. Consider taking advanced training in Anatomy and Kinesiology such as cadaver classes that can be of great assistance in learning how the body works. You will always be learning more anatomy, physiology and kinesiology so you really must love those areas to be a great sports massage therapist. Most athletes are also very aware of their body and how their muscles work so you will need to know how to talk to them in their language.
After you graduate from massage school, you will need more experience doing massage and extra training. There are advanced classes geared specifically to learn sports massage. The American Massage Therapy Association has chapters in each state and many have their own sports massage team that does provide training and also a chance to get hands on experience working at local amateur events.
You will need to have a very in depth knowledge of anatomy and physiology that will focus on the movements that occur in various sports. You will also need an extensive knowledge of injuries, pathologies and an in depth knowledge of how muscles work in order to work more effectively with athletes. You will need continuing education beyond massage school to become a sports massage therapist.
Continuing Education/Advanced Training classes to consider:
Regular Sports Massage Classes offered by individuals, schools or groups like American Massage Therapy Associations sports massage teams.
Example: AMTA-WA sports massage training manual
www.amtawa.org/clientuploads/WSMT/WSMT_Calibration_Manual_FINALMANUAL.pdf
Clinical Massage is a type of massage that is geared toward working with injuries that requires that you learn to make assessments of clients and have a basic understanding of pathology so that you can make decisions on the care of athletes.
Triggerpoint therapy. A type of massage that focuses on releasing the triggerpoints or knots that develop in muscles. There are a few different methods of treating triggerpoints.
Myofascial release is a type of massage that deals with the fascial covering of the muscles and the muscle fibers. There are many different techniques of working with the fascia system. Some popular ones can be found on my website.
Orthopedic massage is a type of massage that has it's foundation in orthopedic medicine which deals with injuries of the muscles and joints. There are many different methods of orthopedic massage to choose from.
Lymphatic drainage massage is a type of massage that deals with inflammation and the lymphatic system.
Stretching
Hydrotherapy which is using hot and cold therapies at appropriate times during training and events.
Deep tissue massage is more of a description of massage than a specific technique. It entails applying pressure to the deeper muscles of the body and often entails using more pressure from elbows and fists. There is some controversy over the pain levels that can be felt as a result of this deep pressure. There are regular deep tissue massage courses and also things like Rolfing® and the structural integration types of bodywork, that work in a deep manner with the body and can be quite effective yet painful.